Kitchen Open to Living Room Ideas for Spacious Feel in Tacoma
Beautiful open concept and living room designs, as well as suggestions for paint colors, finishes, and décor, can be seen in this collection.
Open-concept homes and apartments are still in demand, especially in new construction. This kitchen design is preferred because it makes the room feel lighter and allows for saving space. In residential houses, an open plan kitchen is frequently used in open spaces like the living room, dining area, and separate kitchen.
People typically appreciate open-plan layouts for a variety of reasons. Since the eating area is typically located next to the kitchen open, the living room and open kitchen are not frequently positioned next to one another. However, there are benefits to placing it next to the living space, especially if you enjoy multitasking and entertaining guests.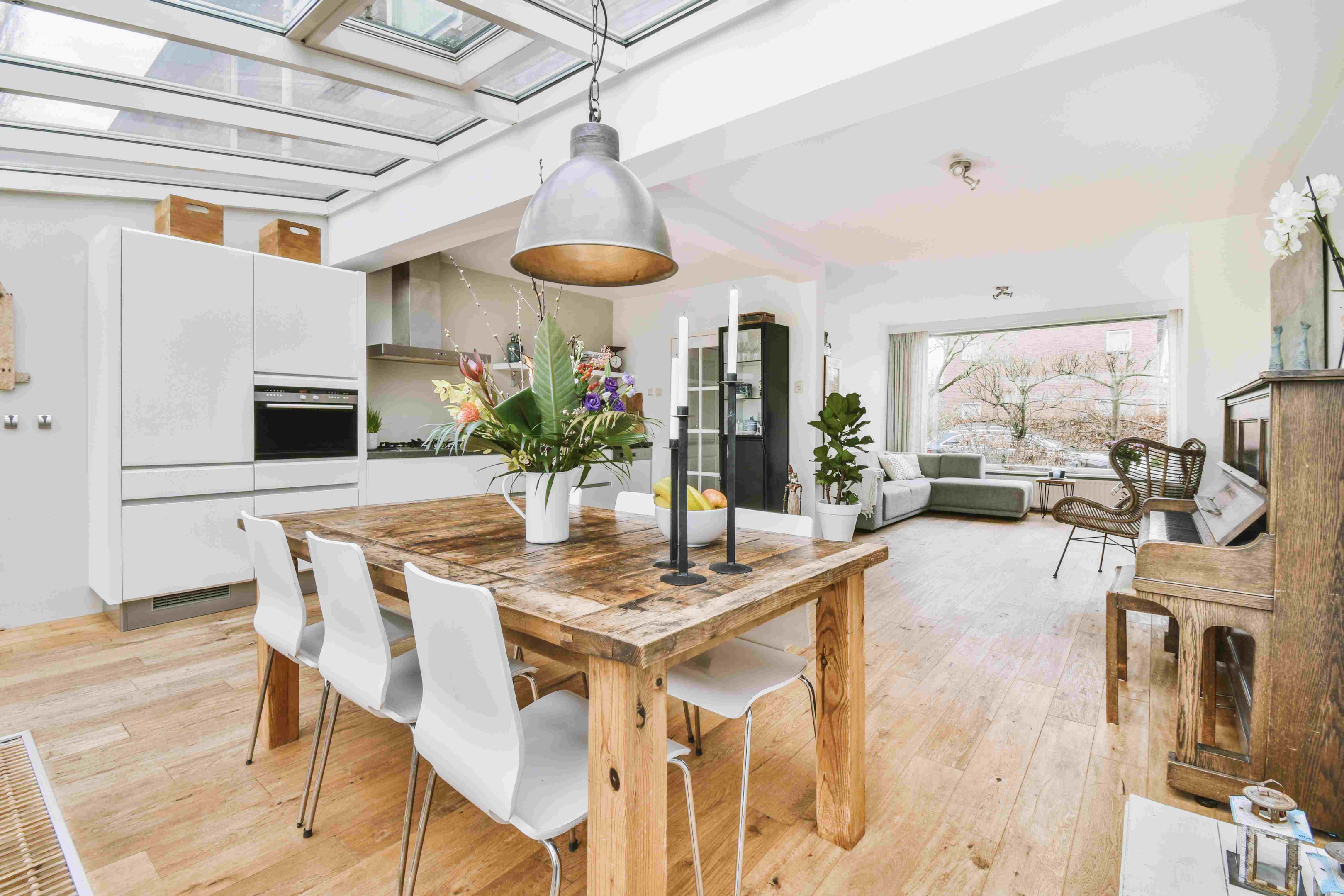 What Is a Kitchen Open to Living Room?
It was thought that the kitchen zone should be its own space for a long time. According to this idea, homes and flats were created. But if there isn't much room, it becomes an issue. Because of this, the kitchen open to living room has been popular recently.
Such an environment is distinctive for incorporating many purposes into one. Open concept kitchens are typically paired with living rooms since it's a space where you can cook and consume meals and relax.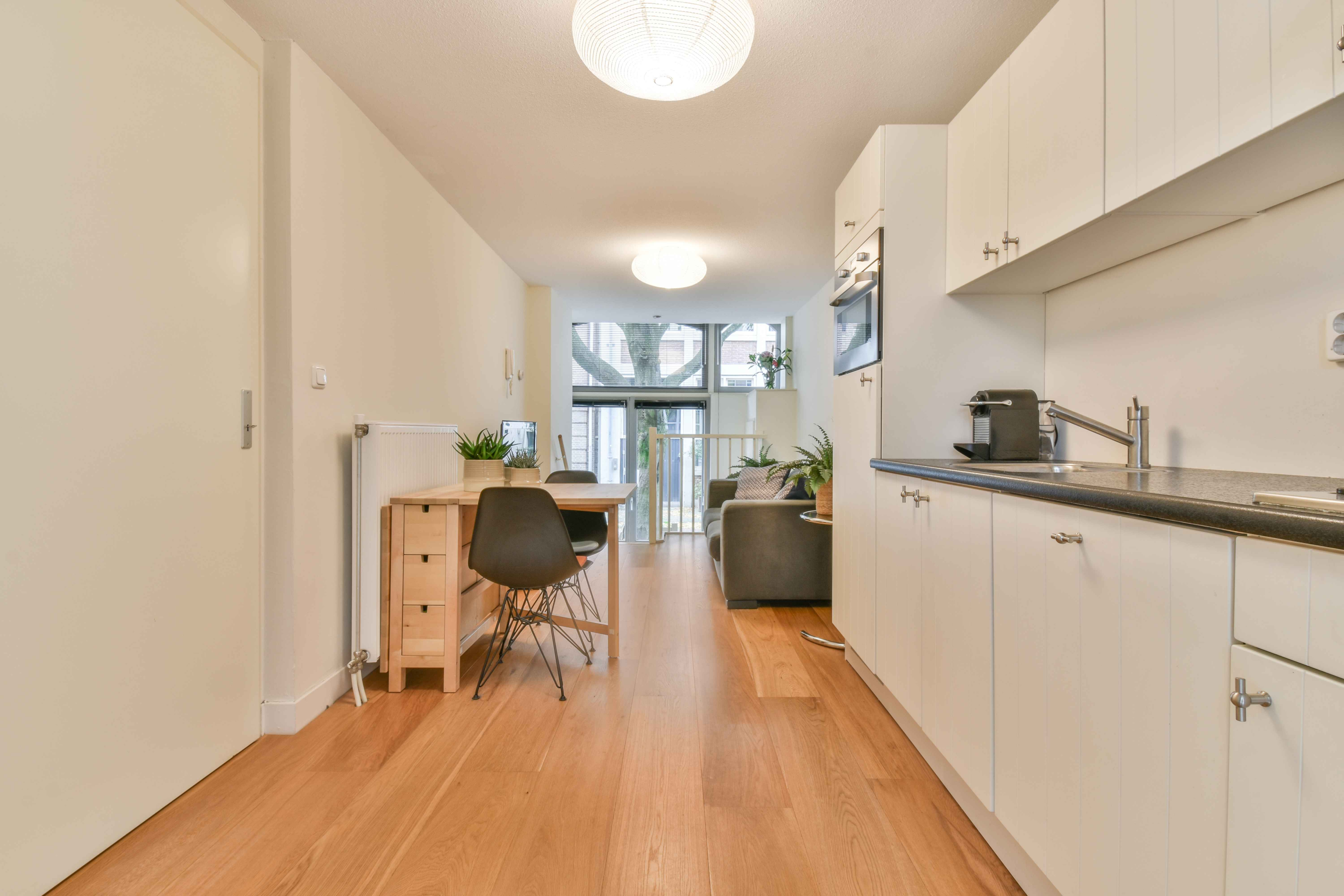 Read more: When Remodeling a Kitchen What Comes First? 11 Simple Steps for Dream Kitchen
Pros and Cons of An Open Plan Kitchen
Pros
One of the major advantages is that kitchen open to living room really strengthens the notion that the open kitchen is the center of the house by bringing the entire whole family together.
They also provide the impression that the space is larger since there are no apparent obstacles to the flow of the dining space. Fewer walls allow for a more sociable room, so if you enjoy hosting, they're a terrific alternative. You may be cooking and still chatting with your visitors.
Homework can be completed while reading the day's news in the kitchen open to living room with a breakfast bar island. Or, if you have children, you may be in the kitchen and keep an eye on them as they watch TV from the couch where you are sitting.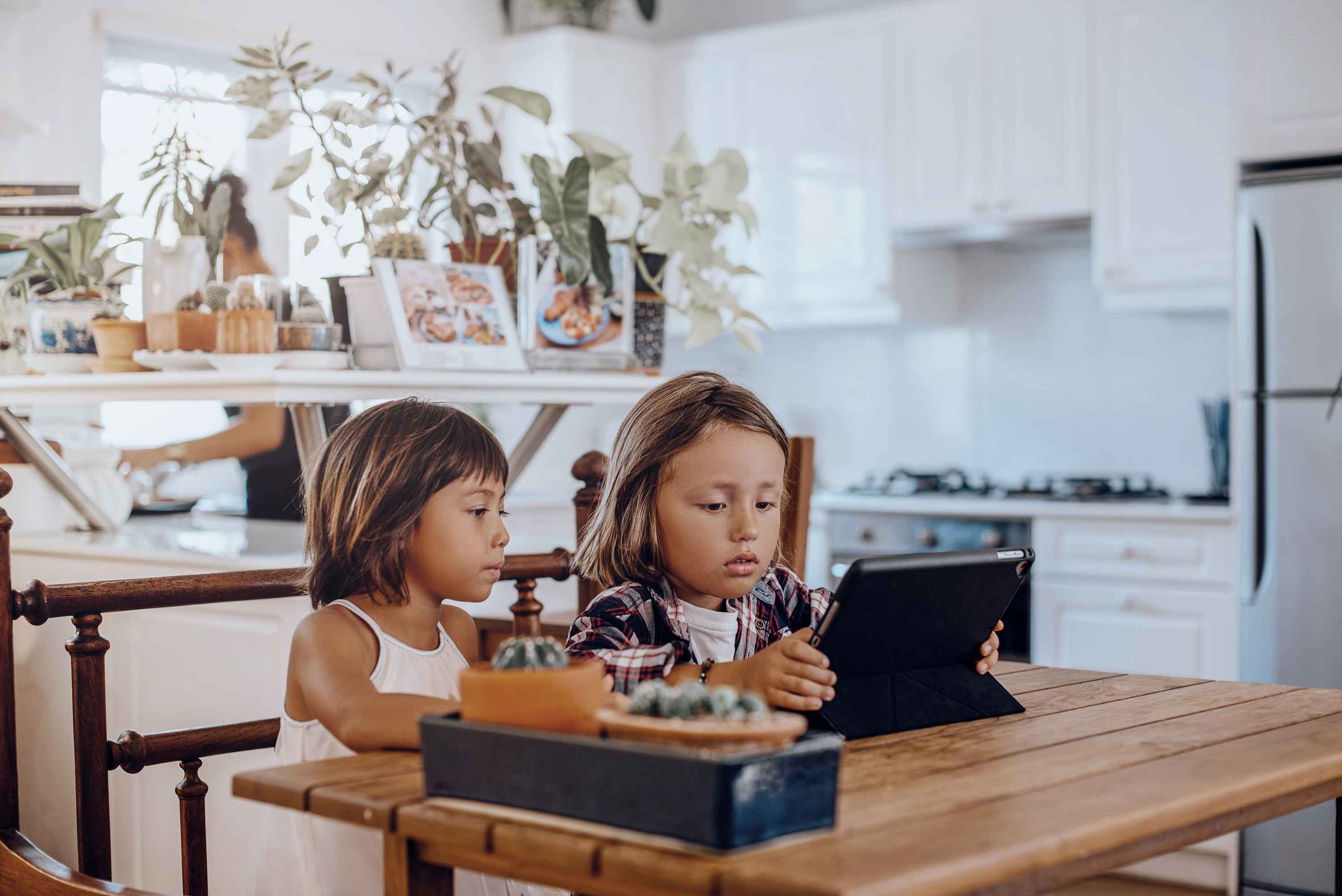 Cons
A kitchen open to living room can initially be expensive if walls need to be demolished, but on the plus side, they can later increase the value of your property.
Kitchen cabinets may be a problem because there are no separate rooms, so it's worth thinking about how you might want to address it. Ideas include shelving units, additional wall units, sofas with kitchen cabinets, and sideboards.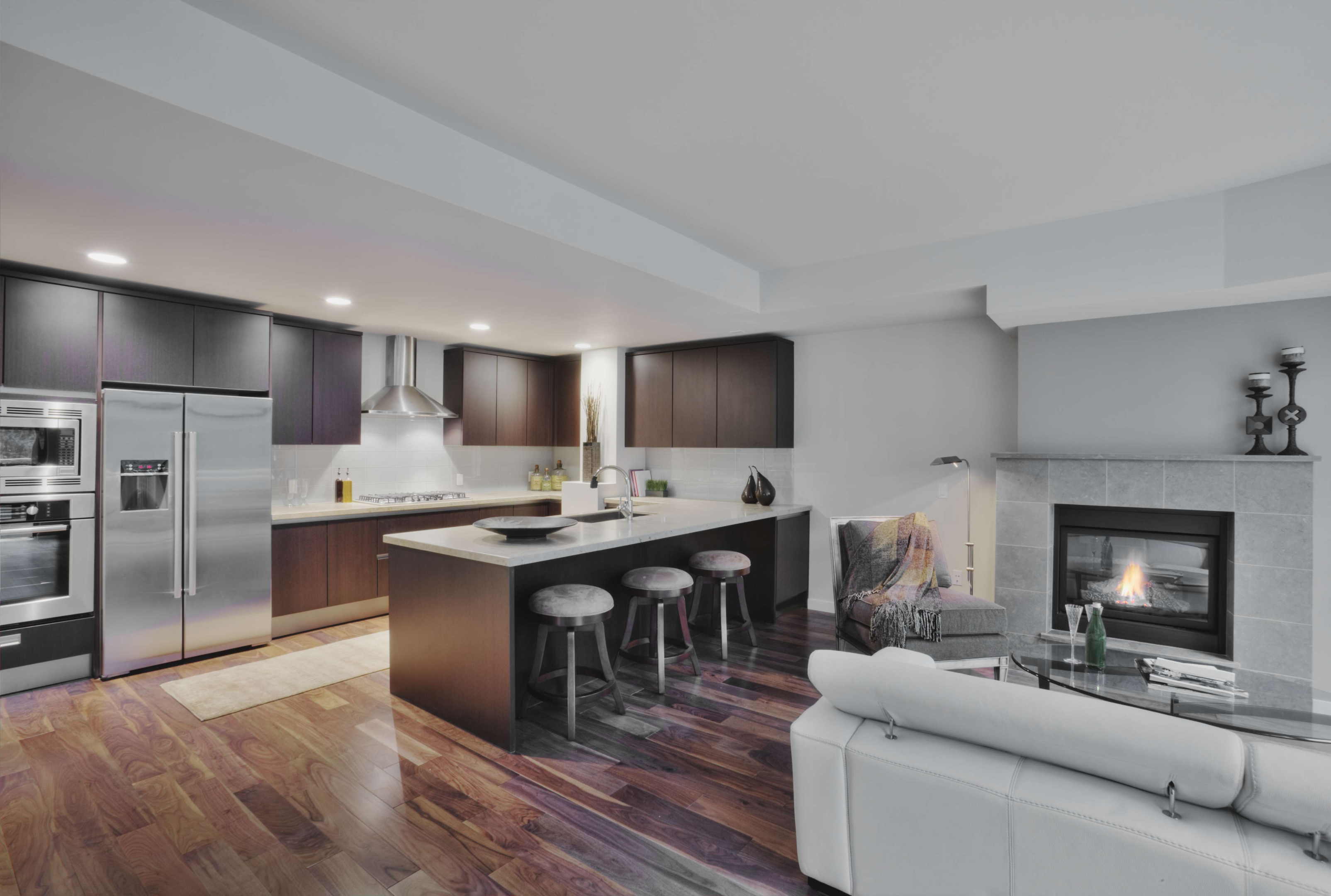 Since the dining area and kitchen to living room are now all combined, noise might be a problem. Additionally, a mess in an open-concept kitchen may often spread quickly, and if you're sitting on the couch, you might be able to see the dirty pots and pans that need to be washed.
Amazing Open Plan Kitchens Ideas – Kitchen Remodel Tacoma WA
Ideas for Painting an Open Kitchen and Living Room
Keep in mind that the paint contrasting color or the same color you choose for your open kitchen and living room should be able to unify the two areas without seeming overly repetitious. It must be able to blend with or enhance the colors used in the kitchen and living room.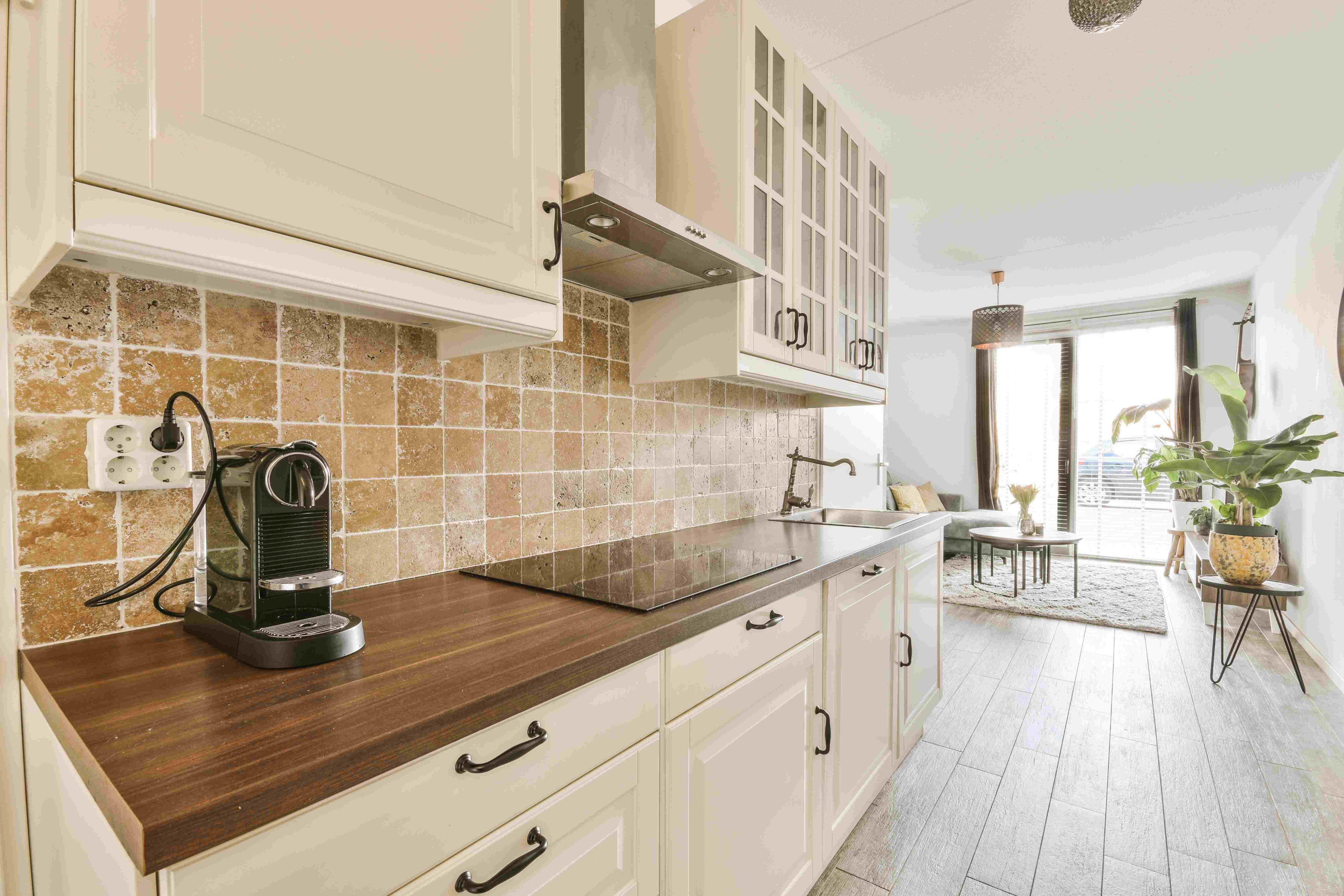 Try experimenting with various white, taupe, and warm hue shades for ideas, these colors are typically simple to mix with any design. Additionally, you may utilize neutrals like gray for appearances that are more contemporary or light colors for a warm and inviting atmosphere.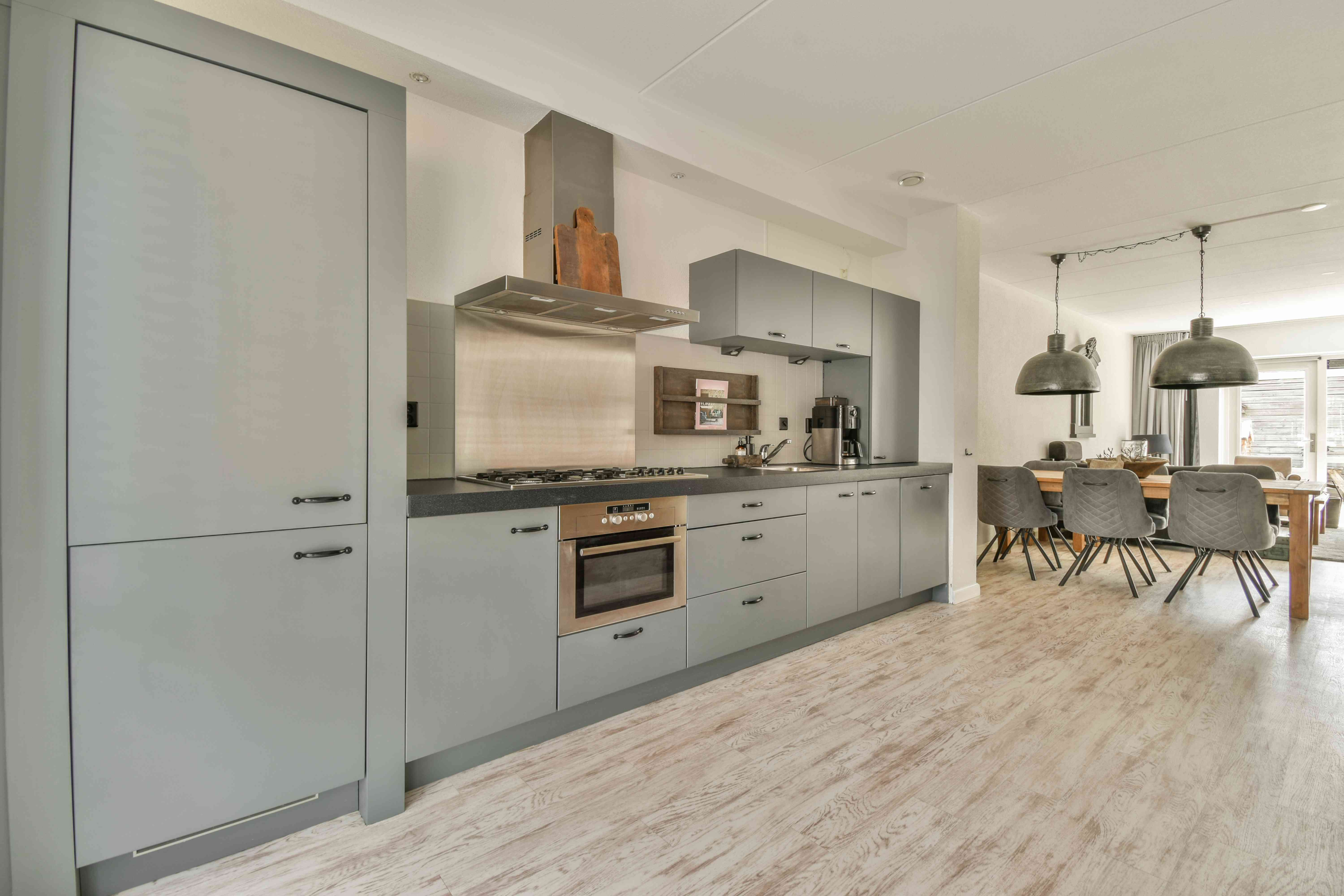 A Kitchen Island in a Kitchen and Dining Area
One of the most popular open-plan kitchen layouts is one that includes a kitchen island. It's a very attractive and practical solution. Usually, the kitchen island is in the middle, along with the cupboards and kitchen appliances, with the living room taking up the remaining space.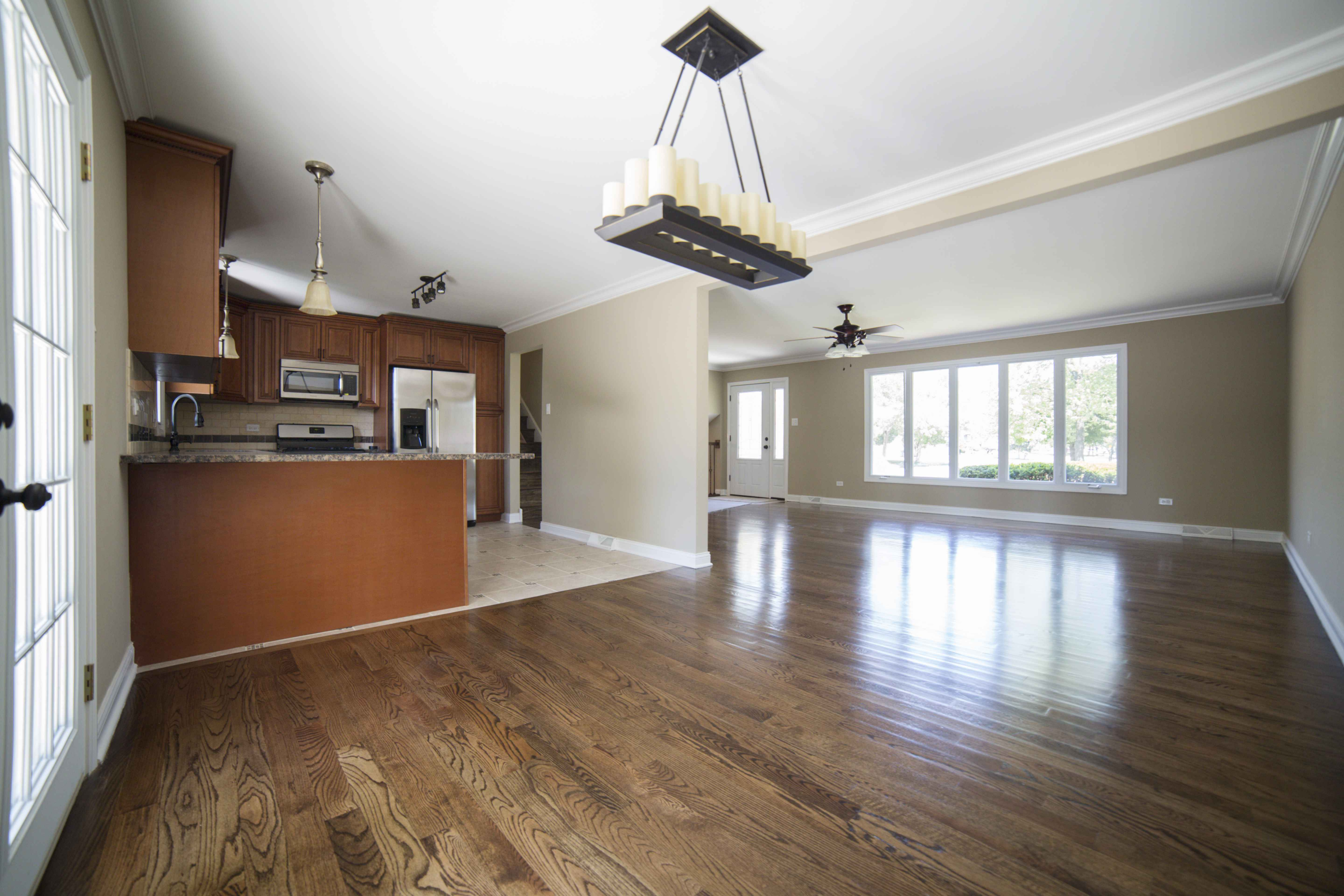 A kitchen island can be utilized for food preparation, dining, or completing schoolwork, depending on the demands and space available. Adding a stove top to the kitchen island is an alternative if the previous two don't work.
The advantage of this method is that it works well with any industrial style. Another benefit is that the kitchen island may have a variety of forms and sizes.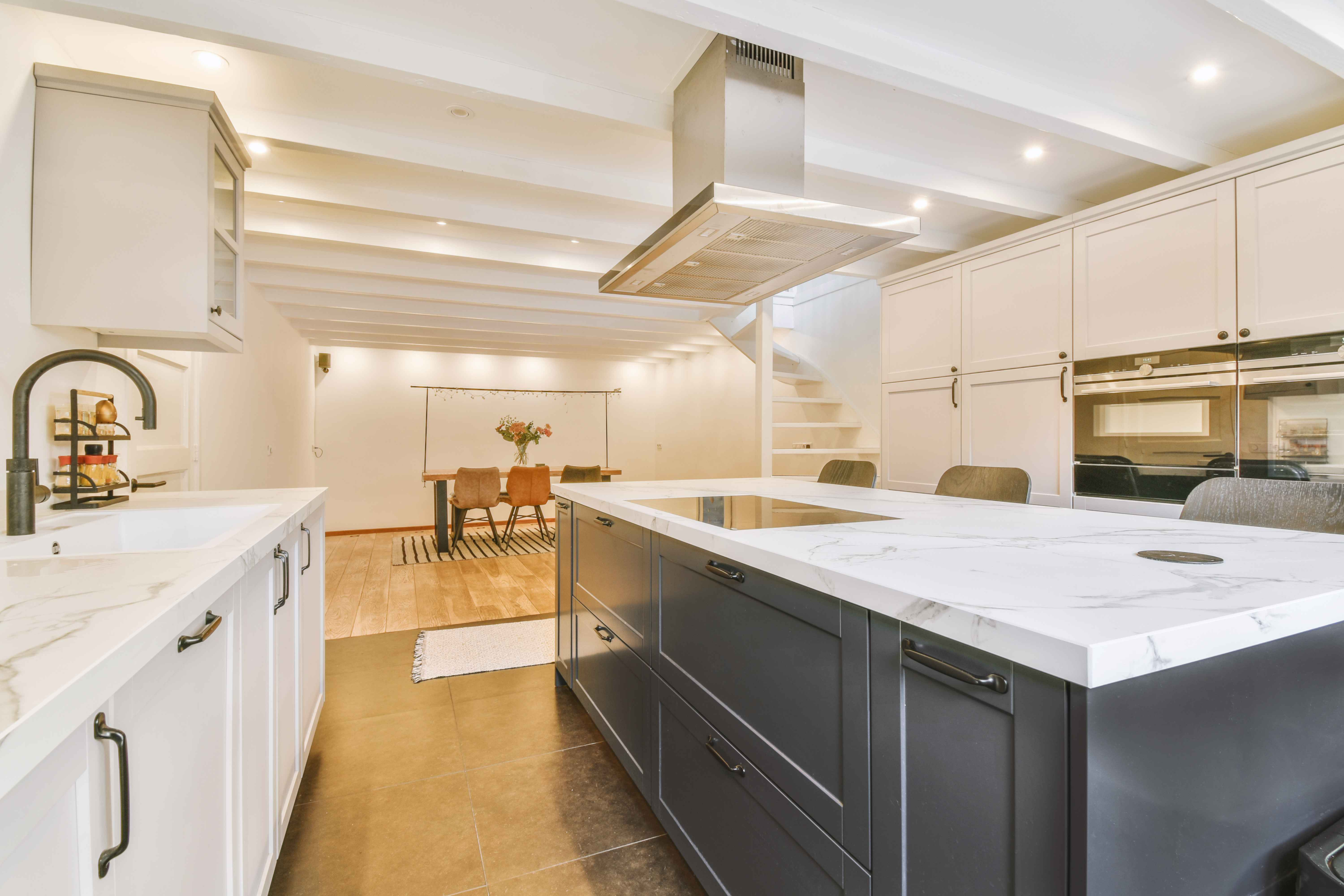 Open Kitchen with a Small Wooden Island in the Middle – Rustic Appeal
There are several ways to have a good kitchen design that is partially open. Installing a simple screen, a wall, or any other furniture can divide two spaces. It is possible to divide without dividing.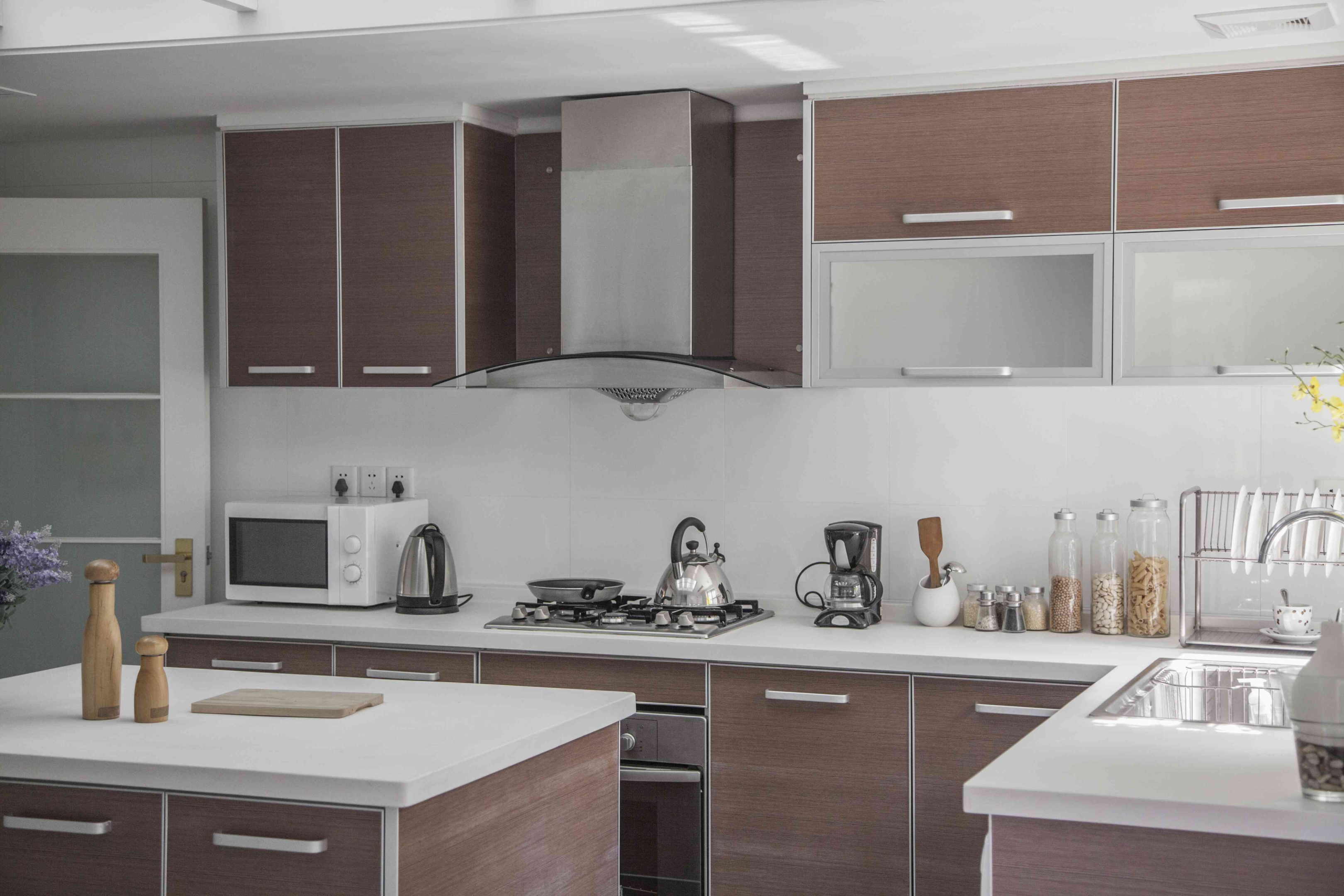 Select the Correct Open Concept Kitchen Layout and Design
Spend some time considering how people will navigate the open concept kitchen. The working area in the kitchen must not be used by anyone as a corridor between places, and no one should cross through it for safety reasons.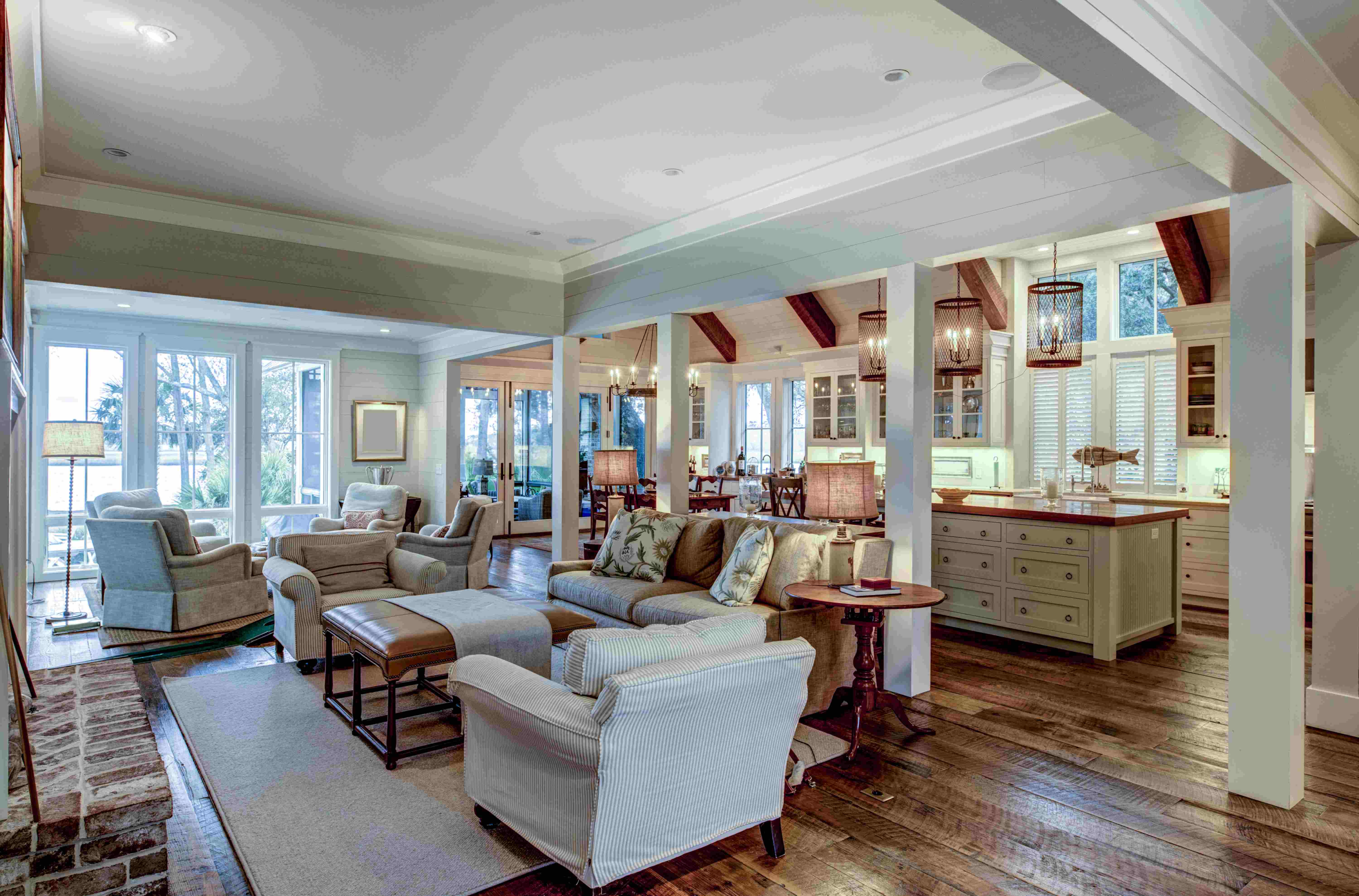 Is there enough room between the dining area and the open kitchen? Because it could be challenging to watch TV or have a conversation while hearing the sound of clattering pans and dining room utensils in the background, take into account the distance between these areas.
Also consider whether you want kitchen-related items, such as washers and dryers. Keep in mind that raucous spin cycles won't improve the ambiance of the space. You could want to designate storage space for these in kitchen cabinets or a separate utility room.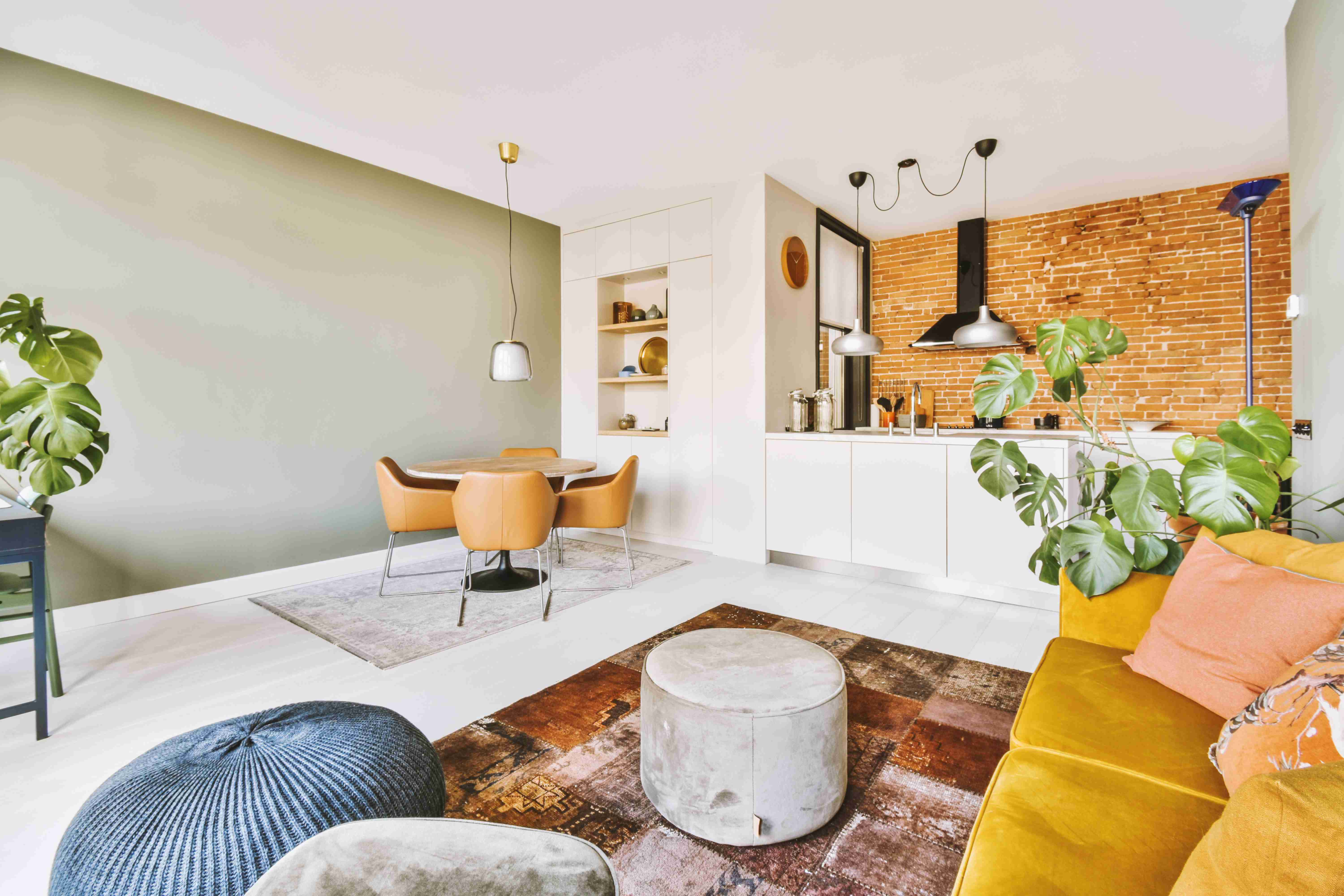 A utility space doesn't need natural light, thus it can be positioned in the middle of an open floor plan. Check out our helpful guide for advice on creating a utility room's open layout and kitchen design.
Use a Simple Kitchen Design in a Room with an Open Plan Kitchen
You want your open-plan kitchen to seem coherent and have a flow as you gaze across it. Given that the kitchen and living area are connected, the dining table and chairs, with their light-colored wood patterns, also look good there.
The dark gray couch and armchair in the living room are visually balanced by the rug and pillows, which include the mid-gray and light pink hues from the open concept kitchen and dining space. The turmeric sofa, throw, and rug are the highlight colors that set the living room apart from the rest.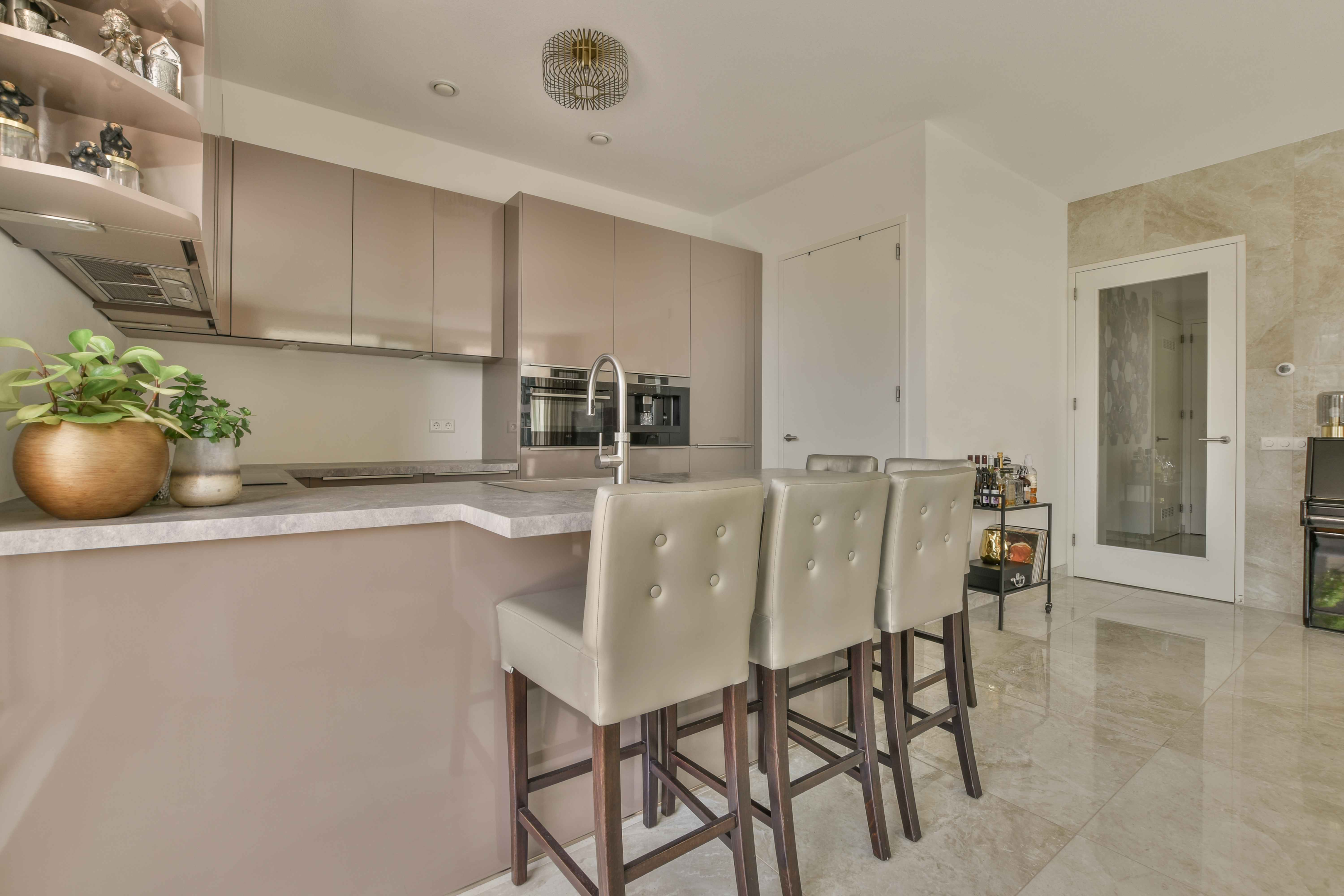 Ideas for an Open-concept Kitchen: Employ Vibrant Hues
Bright colors, in the opinion of many, make a kitchen open to living room seem its finest. There are several patterns in cream and white hues. But remember that they aren't your only choices.
Depending on the open plan design you choose, the interior also looks lovely with wooden and marble accents. Bright colors provide the illusion that the space is larger, making even a small environment appear spacious.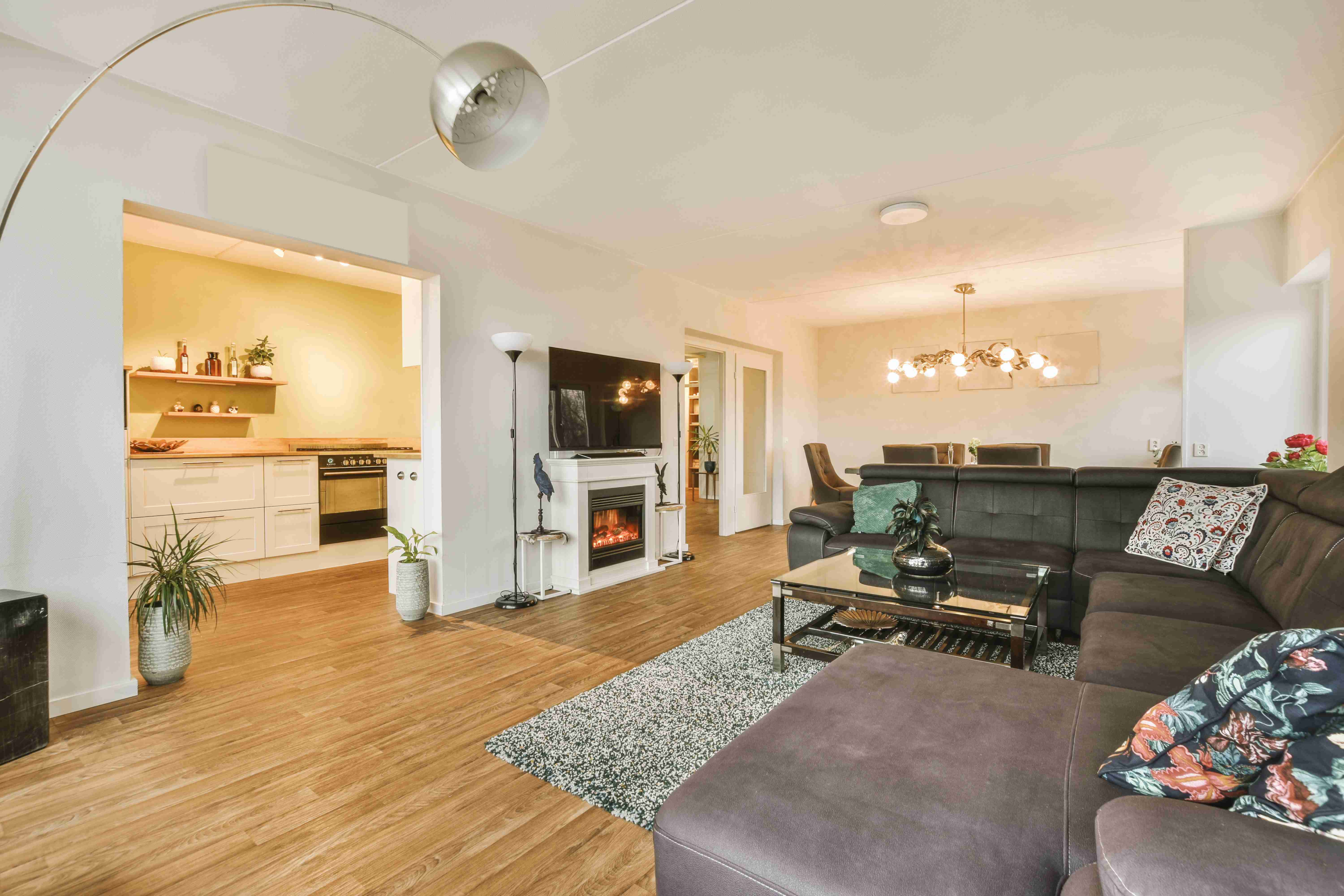 Read more: Open flow kitchen Designs and Ideas: Best Way to Create the Ideal Space
Open Plan: Zone Your Kitchen, Dining Area, and Living Room Divider
As an open-plan design, a live-in kitchen diner has to have distinct spaces for seating, dining, and food preparation even though they are all adjacent to one another.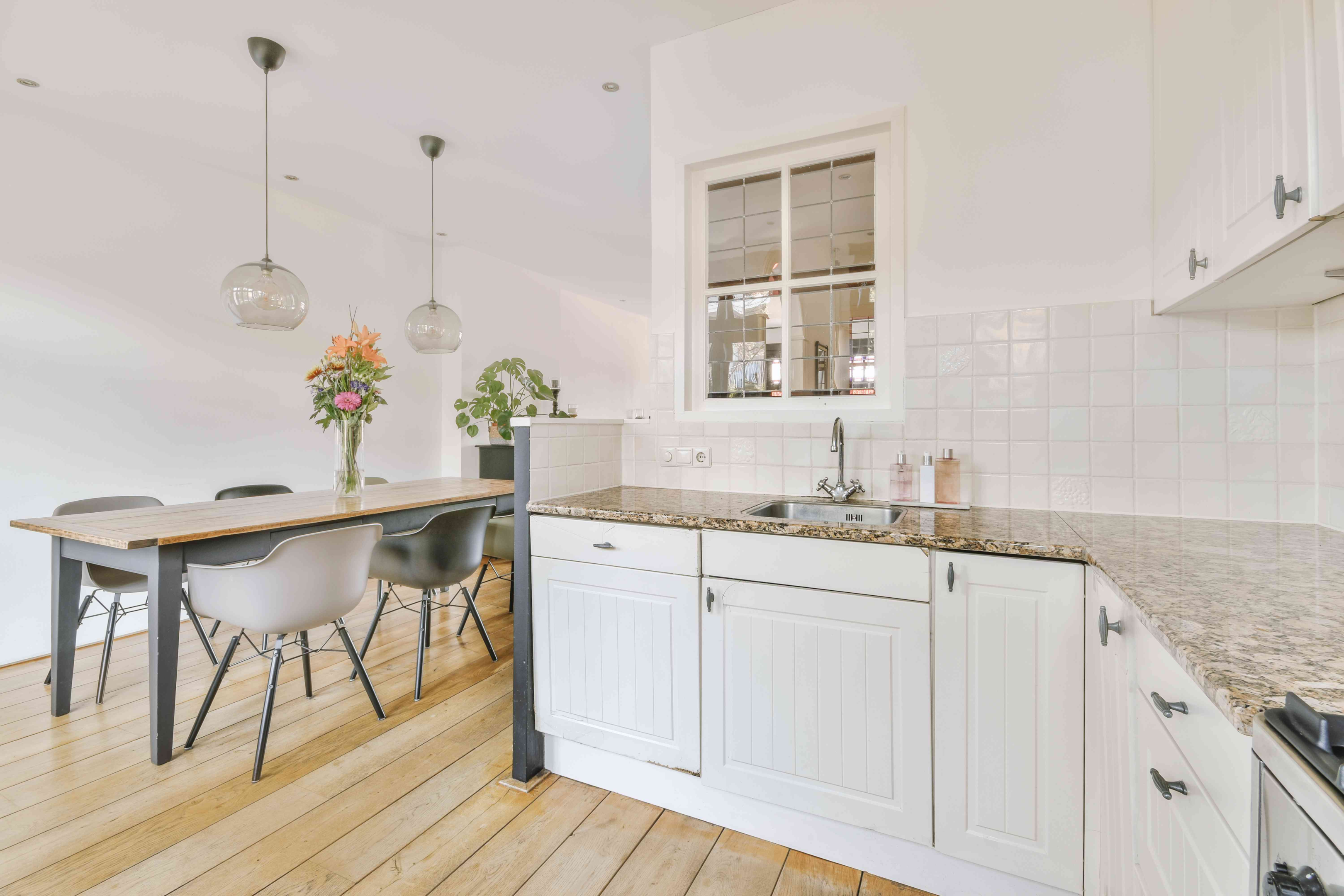 To start, decide which area the kitchen will be situated in. Even though it is not required, positioning the open kitchen against an exterior wall makes it simpler and more affordable to run ductwork for an extractor fan and wastewater. Base and wall units, as well as cooking utensils, can be positioned against an outside wall in the open kitchen area.
Careful Planning with Open Plan Kitchen Lighting
In an open-concept kitchen, kitchen lighting should be designed for different spaces and operated by a separate circuit. This will prevent the lights from shining brightly on the piled cooking utensils and plates once you've gone from the kitchen to the dining area.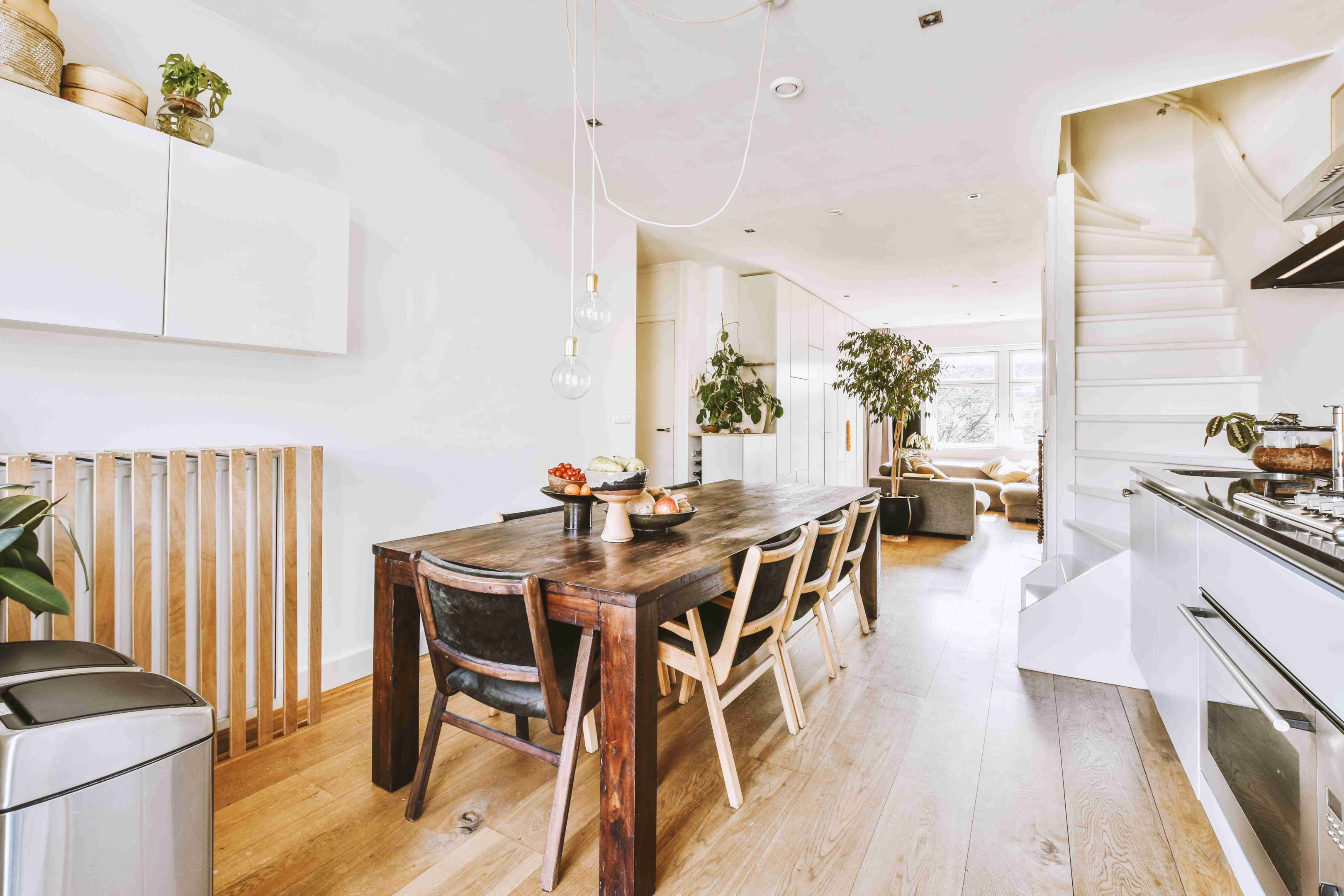 Light the space similar to how you would light a kitchen elsewhere: task lighting is required to adequately illuminate work areas, and ambient lighting should be efficient throughout. What about adding some hanging pendant lights on the ceiling above the breakfast bar? They may be an excellent focal point.
A Small Space with an Open Concept Kitchen and Living Room
Open plan layout ideas are especially beneficial for small rooms. Depending on the floor plan you are dealing with, there are constraints and obstacles, but after you figure out how to work around the constrained space, the advantages of the open layout would surely surpass the disadvantages.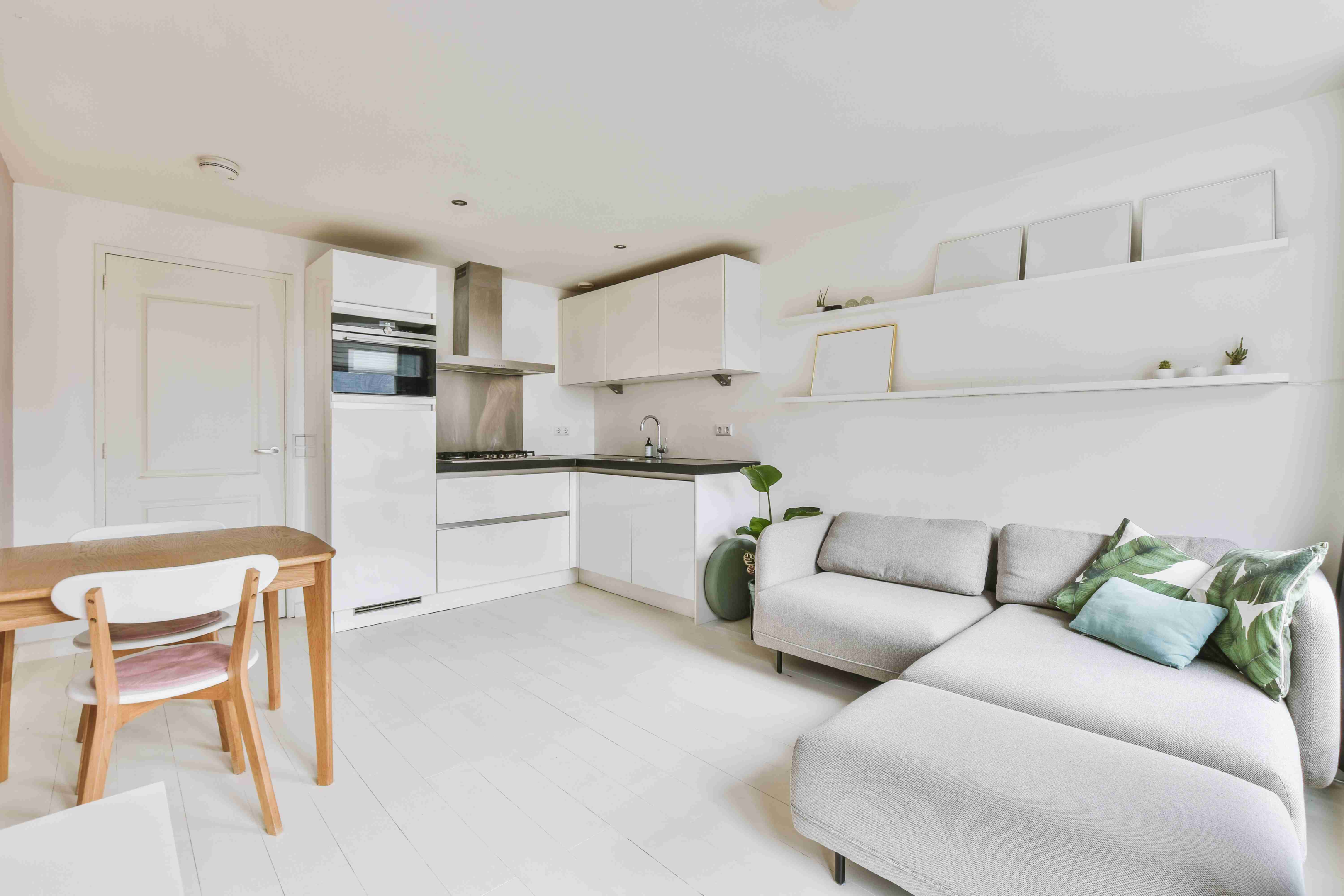 Smaller spaces would require more careful design that took into account how you would really use the small spaces. According to your routine/habits, the design should unquestionably make your life easier or else contribute to the improvement of your present procedures.
Modular kitchen cabinets are a terrific practical option for open-plan kitchens since they allow for flexibility and movement. Do think about built-in appliances to help save space if there may be limited counter space.
In this apartment, the dining room and living room are connected by an open floor plan and a small kitchen with a peninsula. Wood floors connect the spaces while accents like the space rug in the dining room and the artwork in the living room assist to distinguish each space.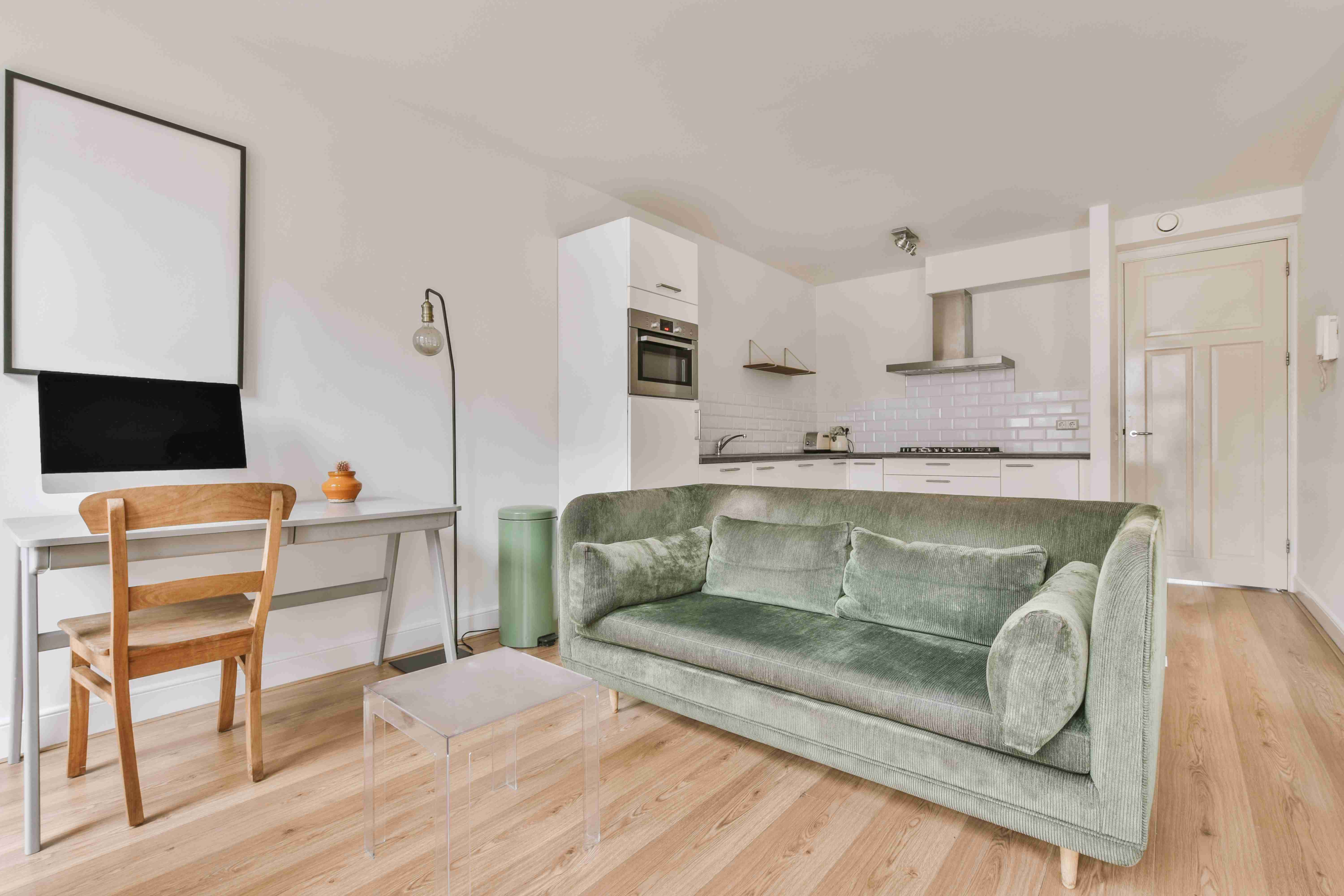 Broken Plan Layout Creation
Living in a broken plan appears to be the new open-plan kitchen. With varied floor finishes, split-level floors, and dividers like half-walls, open shelves, glass sliding doors, or screens, discrete spaces can be created within an open plan arrangement.
What are the advantages of having a messed-up kitchen, dining room, and living room? Visually, you may maintain a room that is open, natural light, and welcoming while yet giving the appearance that the different zones are clearly divided.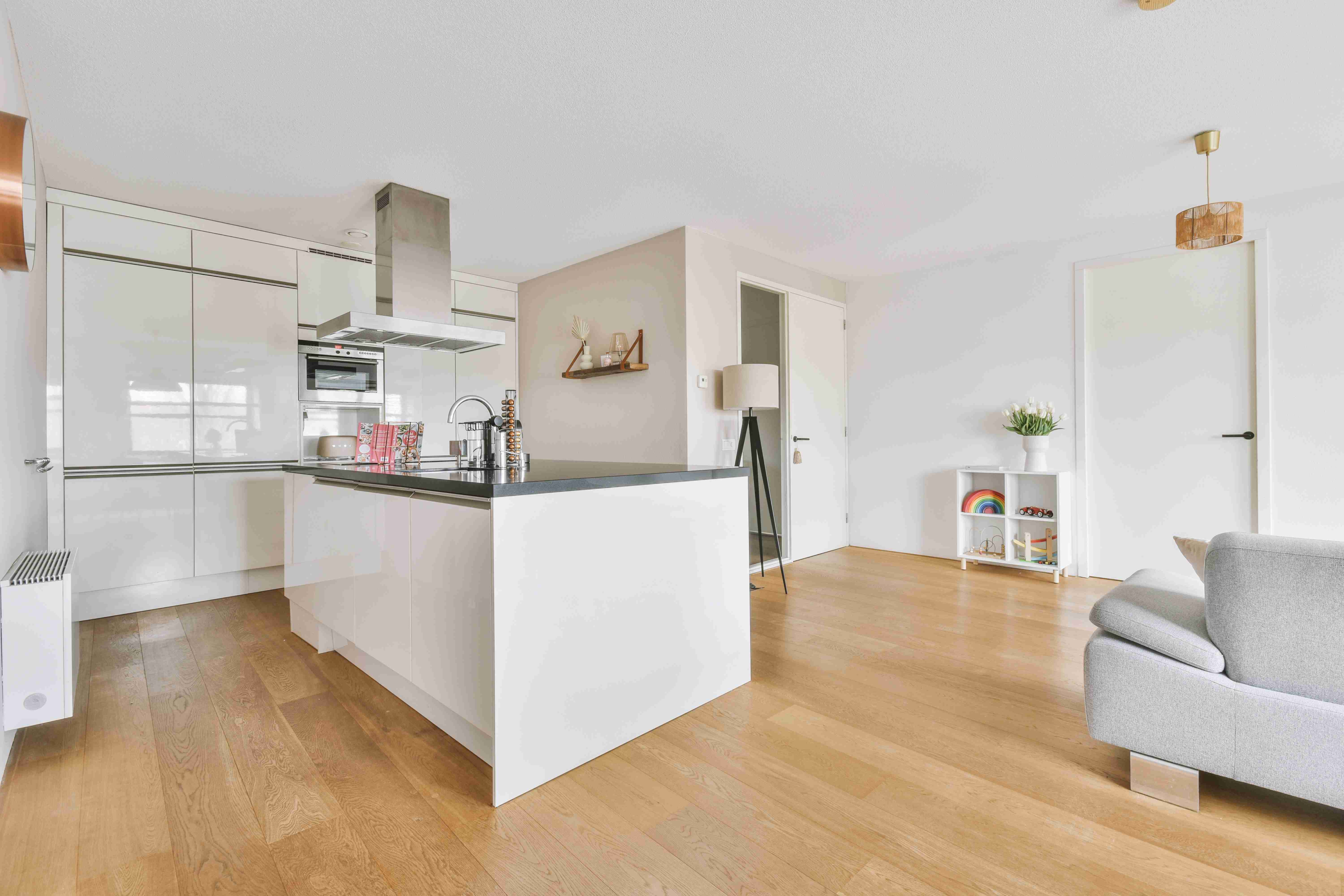 From a focal point, it implies that a disorganized kitchen open to living room may be rapidly isolated from a dining room, or that a diner in the kitchen open to living room can be swiftly divided from the living room.
Read more: Kitchen triangle rule: Things you should Know
A Dark, Industrial Style Open Kitchen
Many homeowners often have a dark open-concept kitchen as a defining feature of the architecture. Remember that these hues enlarge the space, therefore this industrial style is not appropriate for every environment.
A kitchen open to living room that is dark, like black, has to have excellent natural light for easier food preparation. Consider carefully if it's a good option for you because not everyone can sleep well in such settings.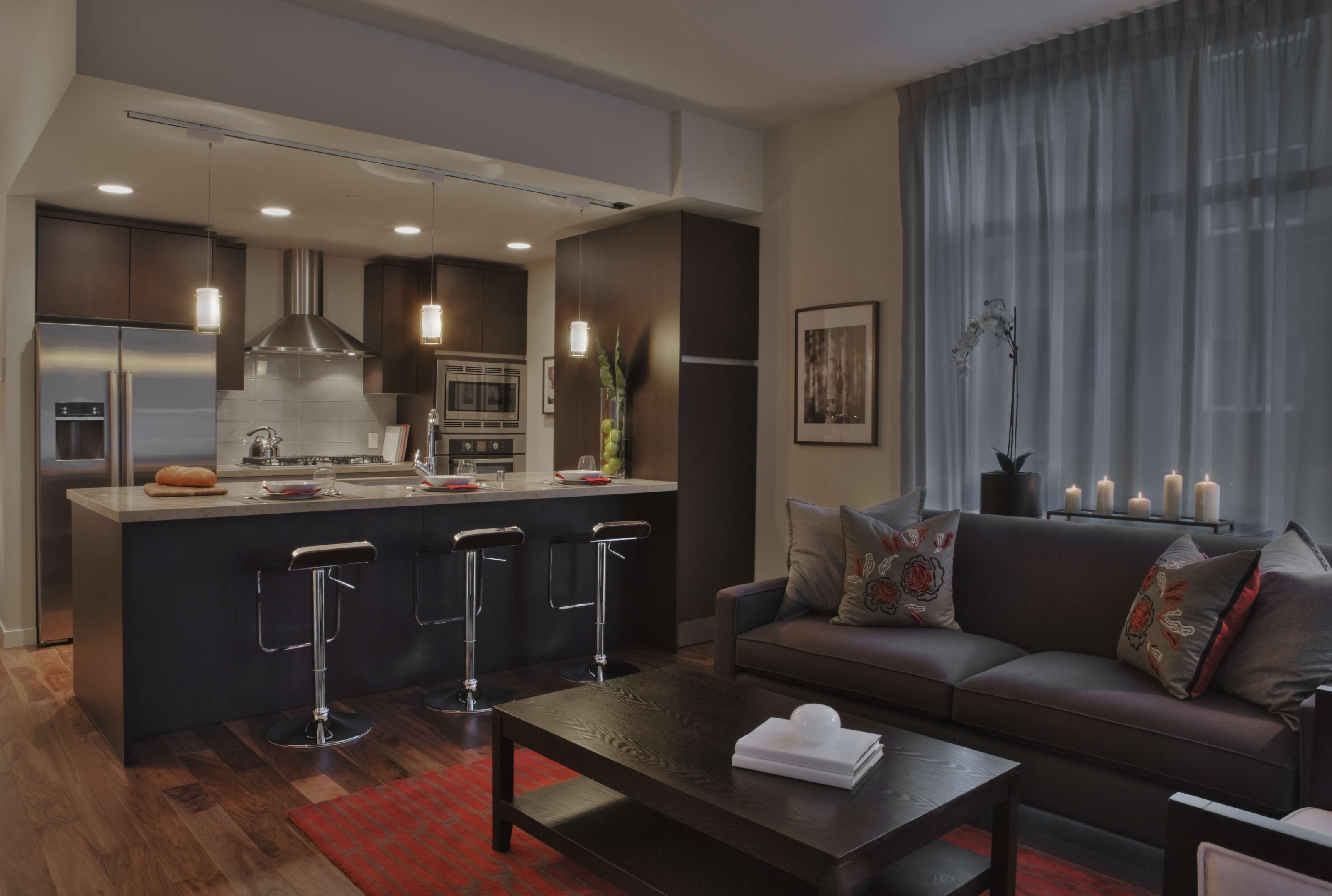 A kitchen with a dark open concept is undoubtedly extremely contemporary. You may get an industrial look by combining copper and wood accents. But bear in mind that cleaning such an interior is more challenging. Cabinets that are dark blue or black make every trace of grime visible.
White Room, Pure Kitchen Open to Living Room
A sophisticated white room with a combined living room and dining room with a parquet floor, wainscotted walls, and a circular tray ceiling with a modern chandelier set on it. The space is outfitted with a contemporary dining table and comfortable sofas that are placed on velvet rugs.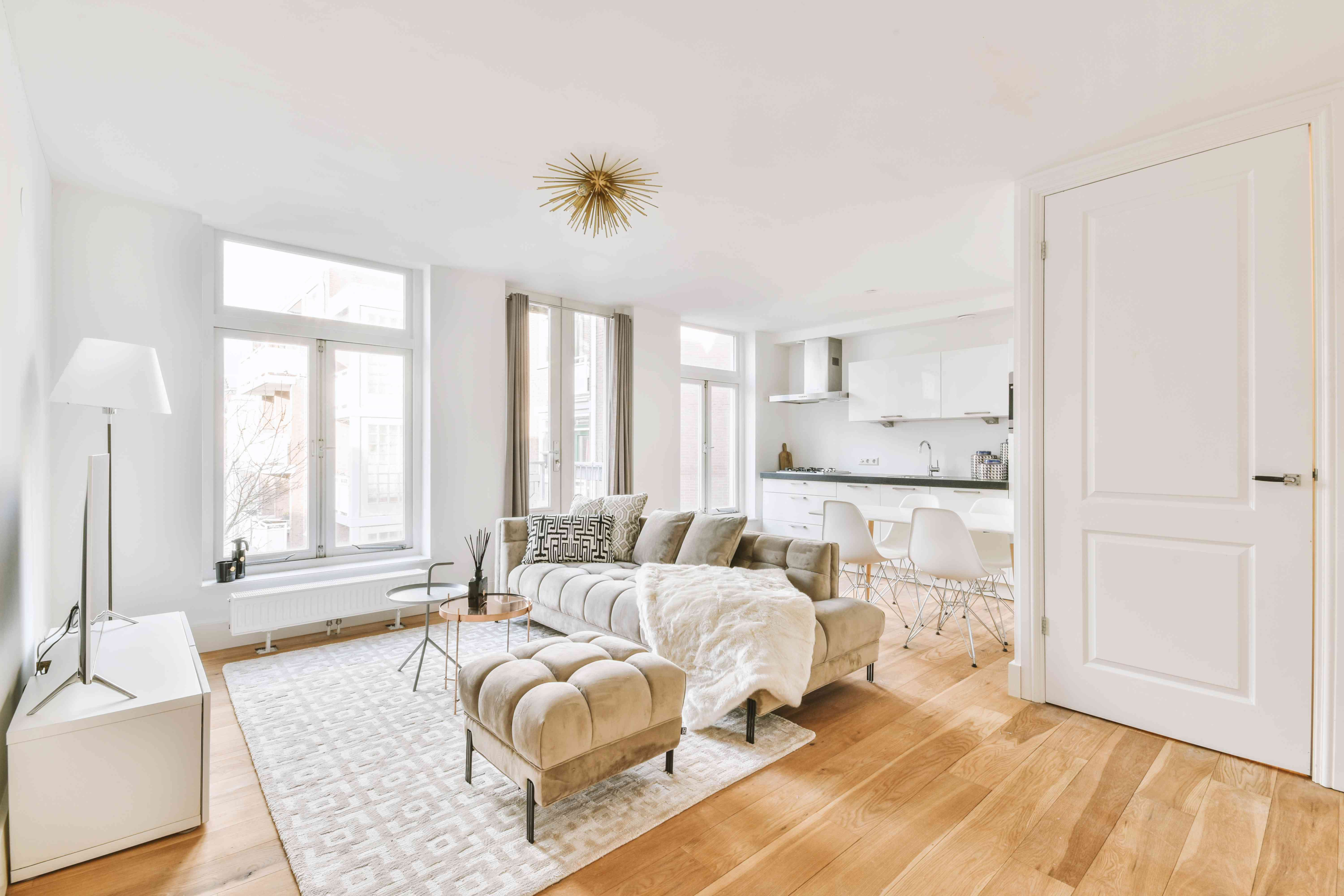 Industrial Design
Stylish mirrors and other wall artworks are installed on the white walls of an open-concept home. The living room, which has comfortable chairs and a glass coffee table over a jute rug, is to its left. The dining room and kitchen open are then across from each other, including high-end appliances and a comfortable dining set illuminated by a black dome lamp.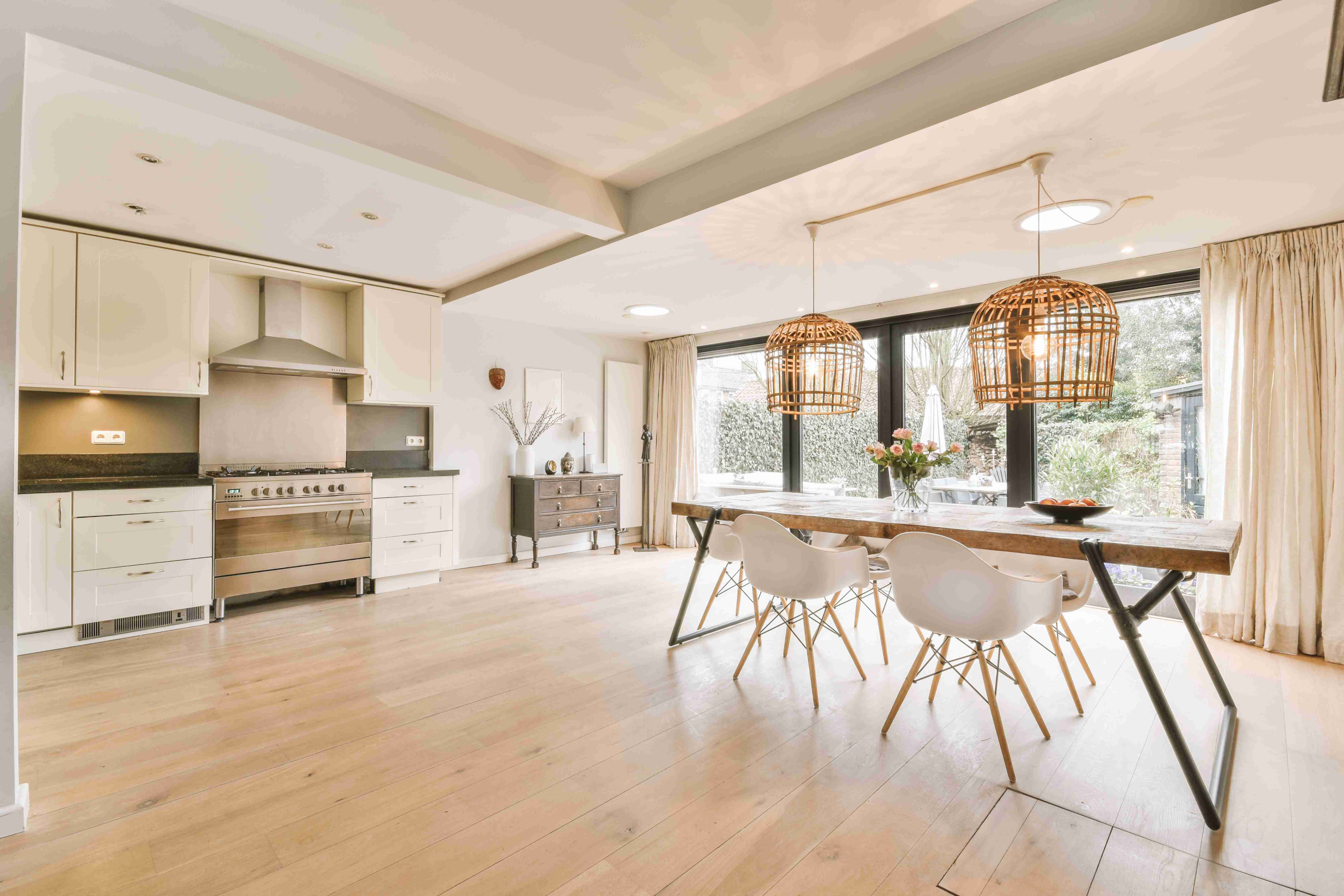 Plan an Open-concept Kitchen Floor Plan
It's time to arrange the kitchen open to living room after you know which zone of an open plan kitchen it will be situated in. You may create your own scale drawings using graph paper or have an architect or kitchen designer do it for you.
You can find it helpful to focus on the space's available walls for putting base and wall units and appliances by using a scaled drawing. Any windows and outdoor doors that lead from the open kitchen should be noted for their placement.
Open Plan Living Does Work in Small Spaces, as Well
If you don't think an open floor plan can function in a compact area, you should see this newly constructed log home. The living room, open kitchen, and dining room make up the primary space of the cabin, but thanks to the creative and fashionable design, it all functions and doesn't seem crowded.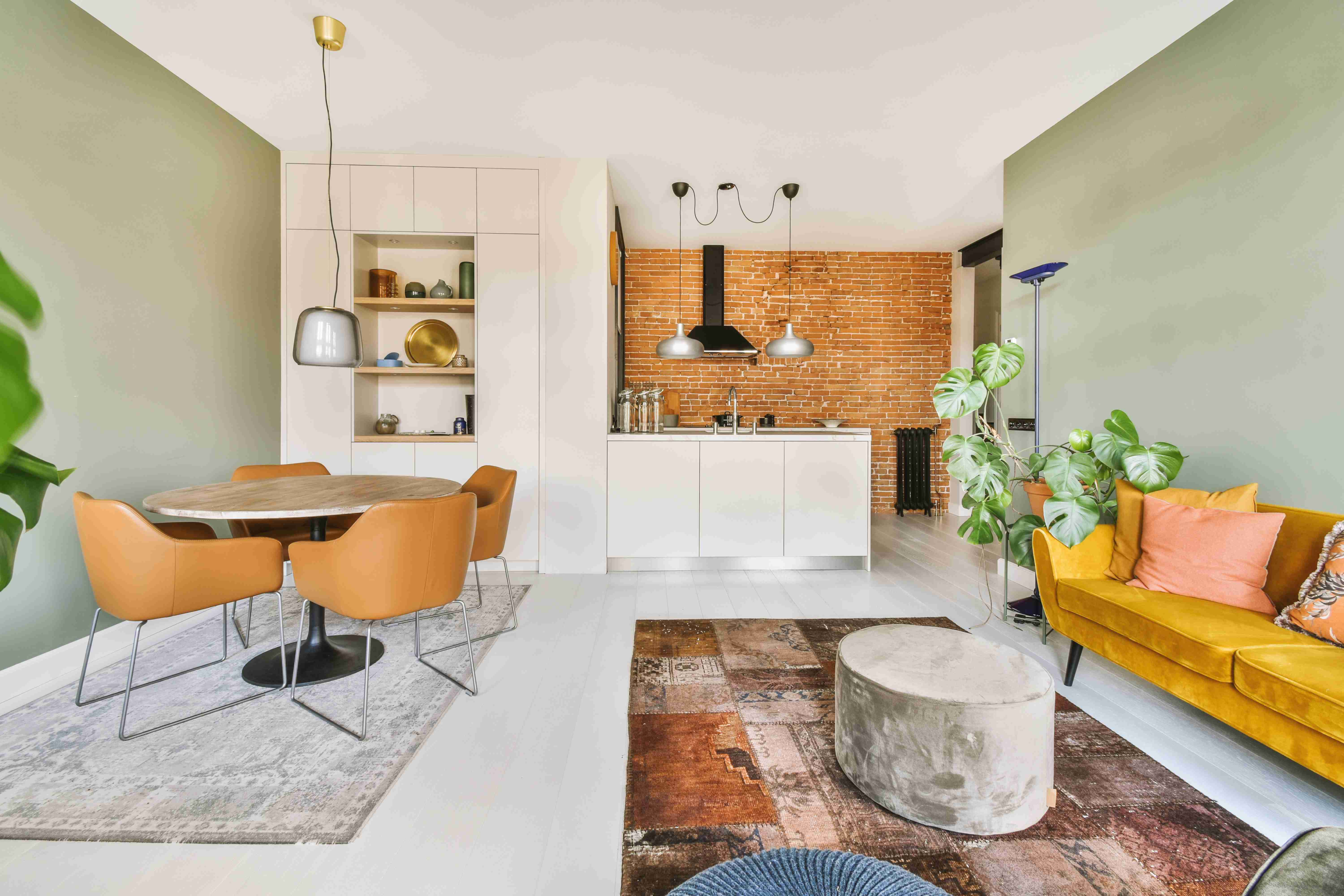 Read more: How to renovate kitchen: Things you should know
Use Small Kitchen Open Plan Design Techniques to the Fullest
Although the phrase "open plan" frequently conjures up pictures of spacious, airy kitchens, it is feasible to accomplish the same results in a smaller area by using slightly modified design techniques.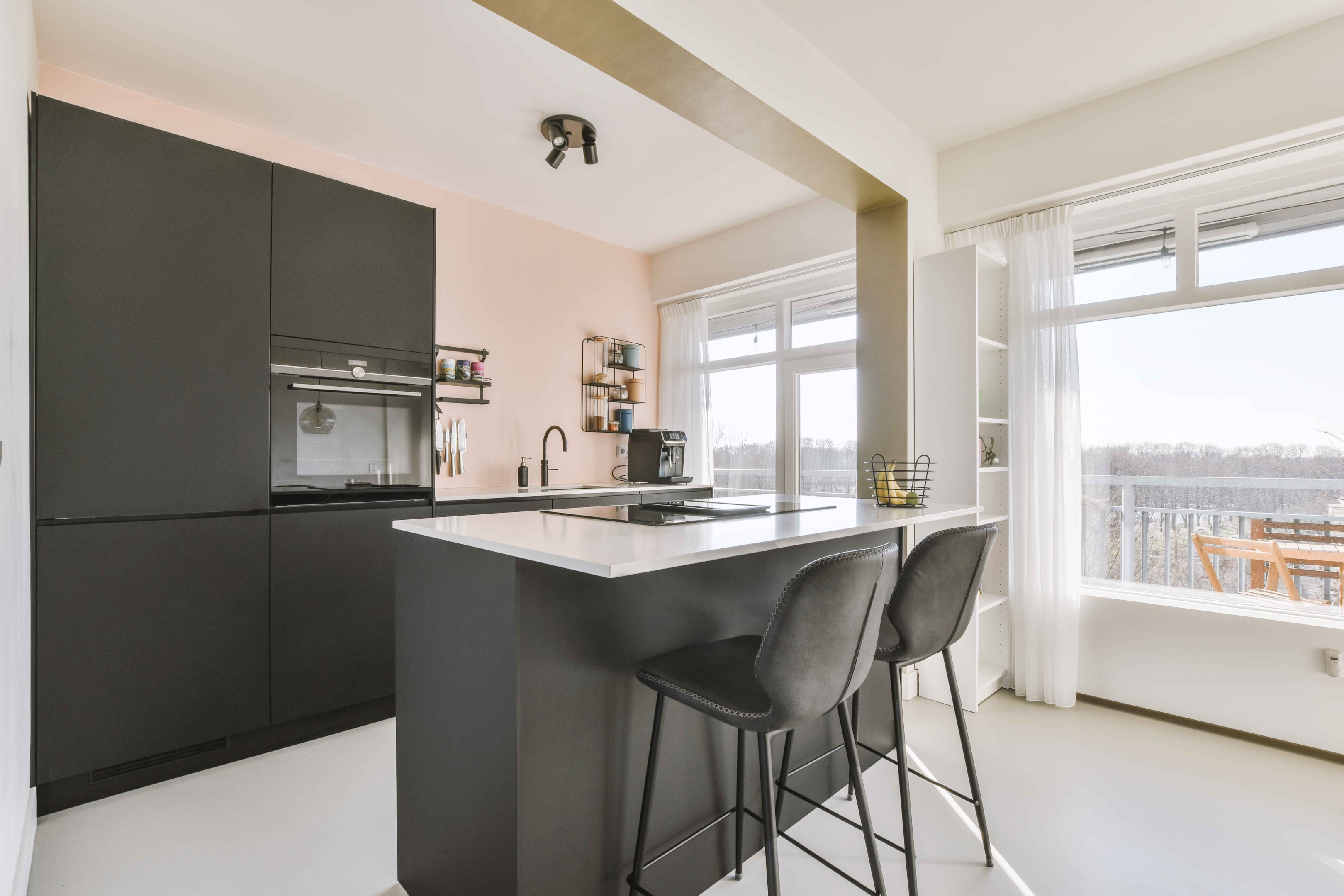 In order to make your kitchen feel as big as possible, you'll want to maximize natural light and may want to think about choosing a light scheme.
To successfully include the dining area, it is advisable to choose a table with the same color and finish as your kitchen cabinets. This will help it fit into the overall design. For smaller kitchen diners, the preferred alternatives are glass or circular tables.
Ask Yourself What Small Details an Open Plan Kitchen Has
The following design tips should be kept in mind if you're trying to figure out how to design an open-concept kitchen since these minor details will make the difference between a decent open kitchen and the open kitchen of your dreams.
If you want to install a hob on an island, consider the type of extractor you select. Views from across the room may be hampered by an island hood. A ceiling extractor could be preferable.
In order to keep the residues of meal preparation out of sight, a breakfast bar or peninsula with a raised edge can act as an efficient screen between a seating or dining room and the open kitchen.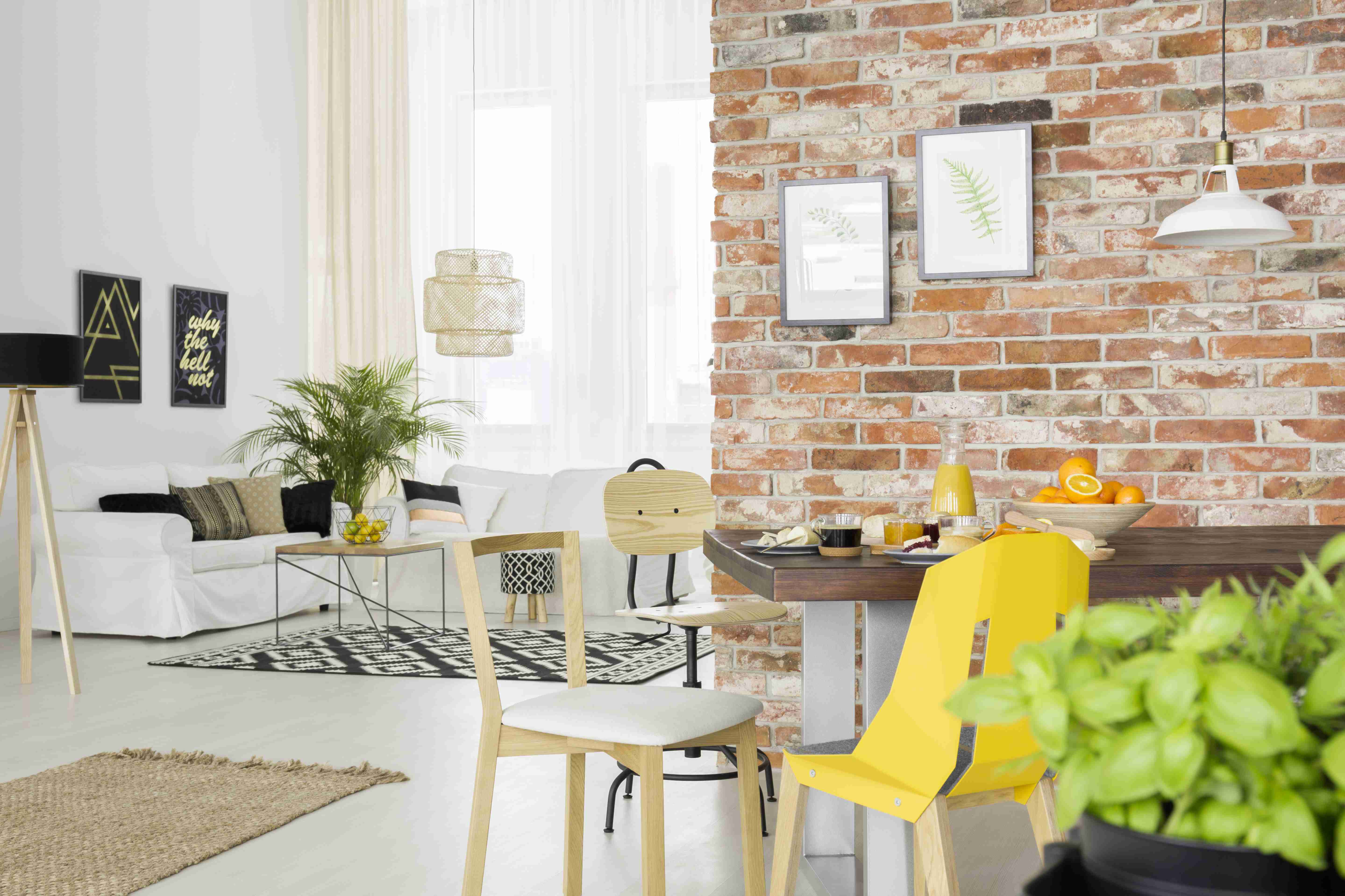 When making a purchase, consider the appliances' noise levels. A noisier washing machine may be audible even in the utility room, and a dishwasher that isn't made to be silent may also be bothersome.
Buy Modern Bi-fold Doors to Entertain the Outdoors
Bi-fold doors are a common addition to modern open-plan kitchen ideas, especially those created as part of a bigger kitchen expansion. They make for a fashionable design element that grabs the eye and successfully creates movement between the kitchen and the outside.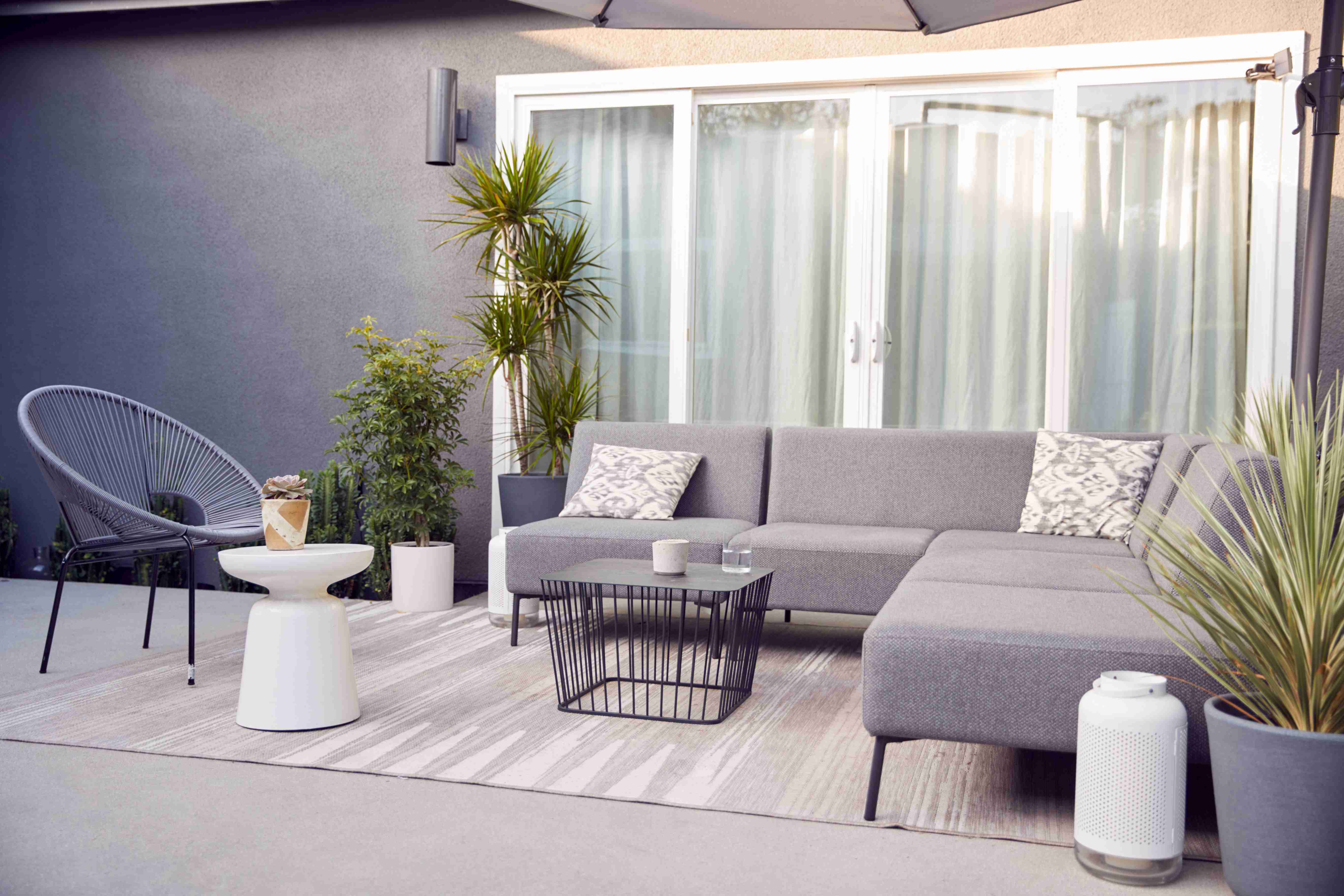 Although bi-fold or sliding doors are often more expensive upgrades, they're worthwhile if you have extra money to spend and want to give your ideal kitchen diner a unique feature.
Read more: Kitchen triangle rule: Things you should Know
Select the Appropriate Open Plan Kitchen Worktop
When constructing an open kitchen, whether an open plan or not, selecting the proper kitchen worktop is a crucial step.
From affordable laminate to natural stone, engineered composites, and wood, as well as additional materials like stainless steel and concrete, the whole spectrum of tabletop materials is accessible. Keep in mind that each has unique attributes as well as upkeep needs.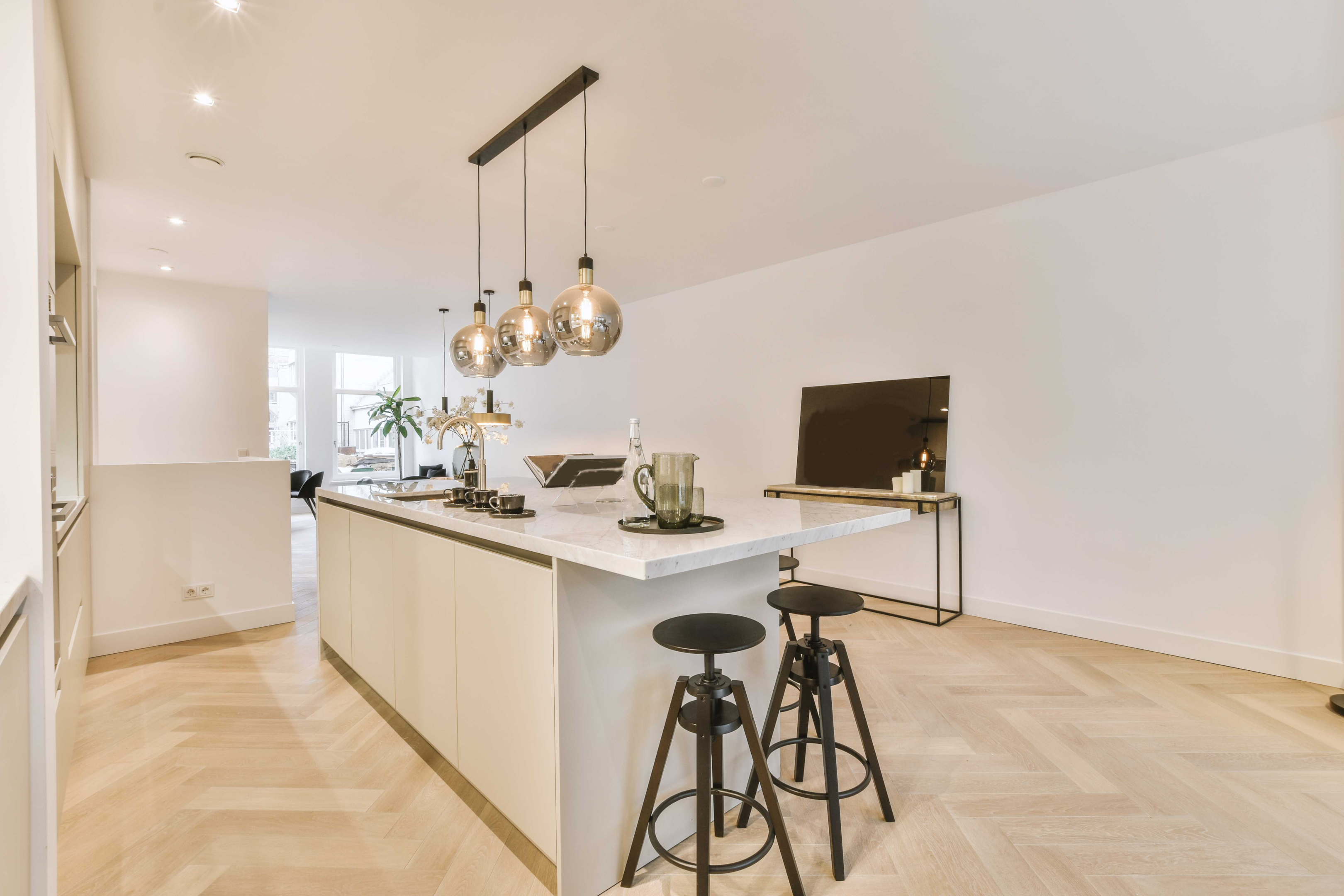 The open-plan kitchen of the room means that the dining table is always on display and is placed against other surfaces in the dining room and living room. Because of this, think about the aesthetic aspects of the worktop in conjunction with the other materials in the room as well as the kitchen design.
Open Concept Modular Floor Plan
As the ideal illustration of an open concept floor plan, this design is highlighted at the top of the collection. Large jute chenille rugs are strategically placed in the middle of the kitchen island, dining, and living rooms to differentiate them as distinct areas while tying the three spaces together harmoniously.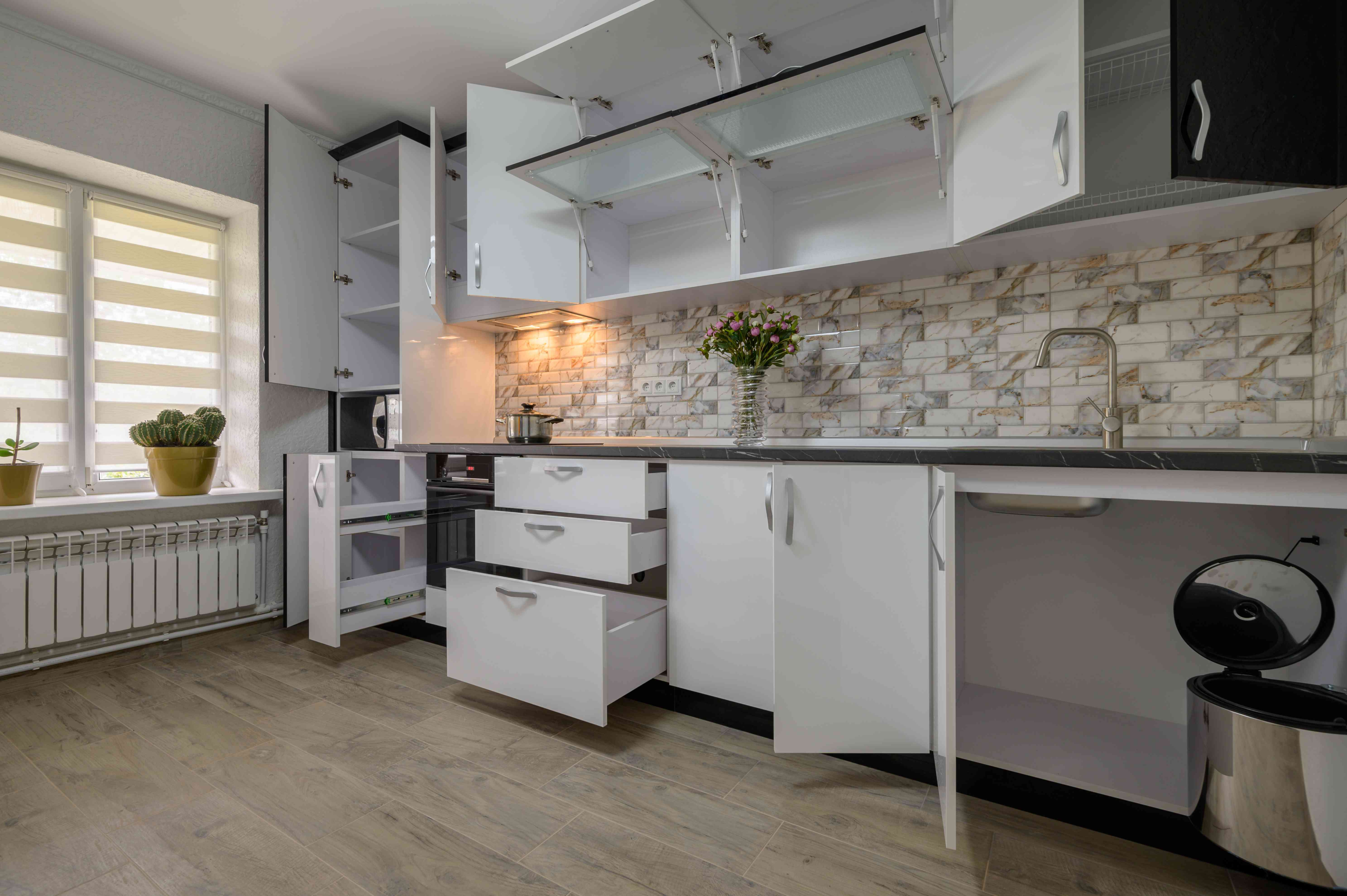 The best approach to integrate all of a home's components into one place is with long, brown ceiling panels that match the room's floor and canopy.
For Open Plan Kitchens, Buy the Right Window Dressings
You must discover a window dressing solution that works with and enhances each space in an open-concept kitchen, dining, and living area. For instance, they could also need to be installed on folding sliding doors and a bay window at opposite ends of the space.

This makes kitchen blinds or window shutters the natural choice. They come in a variety of styles, may be colored to complement your decor, are simple to maintain, and needn't be expensive if you choose a DIY-fit kitchen design. If you want to give your kitchen design a gentler touch, café-style shutters at a bay window, for instance, look great paired with curtains.
Embrace the Dark and Atmospheric Interior Design
You shouldn't completely discount the dark and moody decor trend as ideal open plan kitchen ideas despite all we've talked about employing light hues for a bright and large open plan kitchen diner.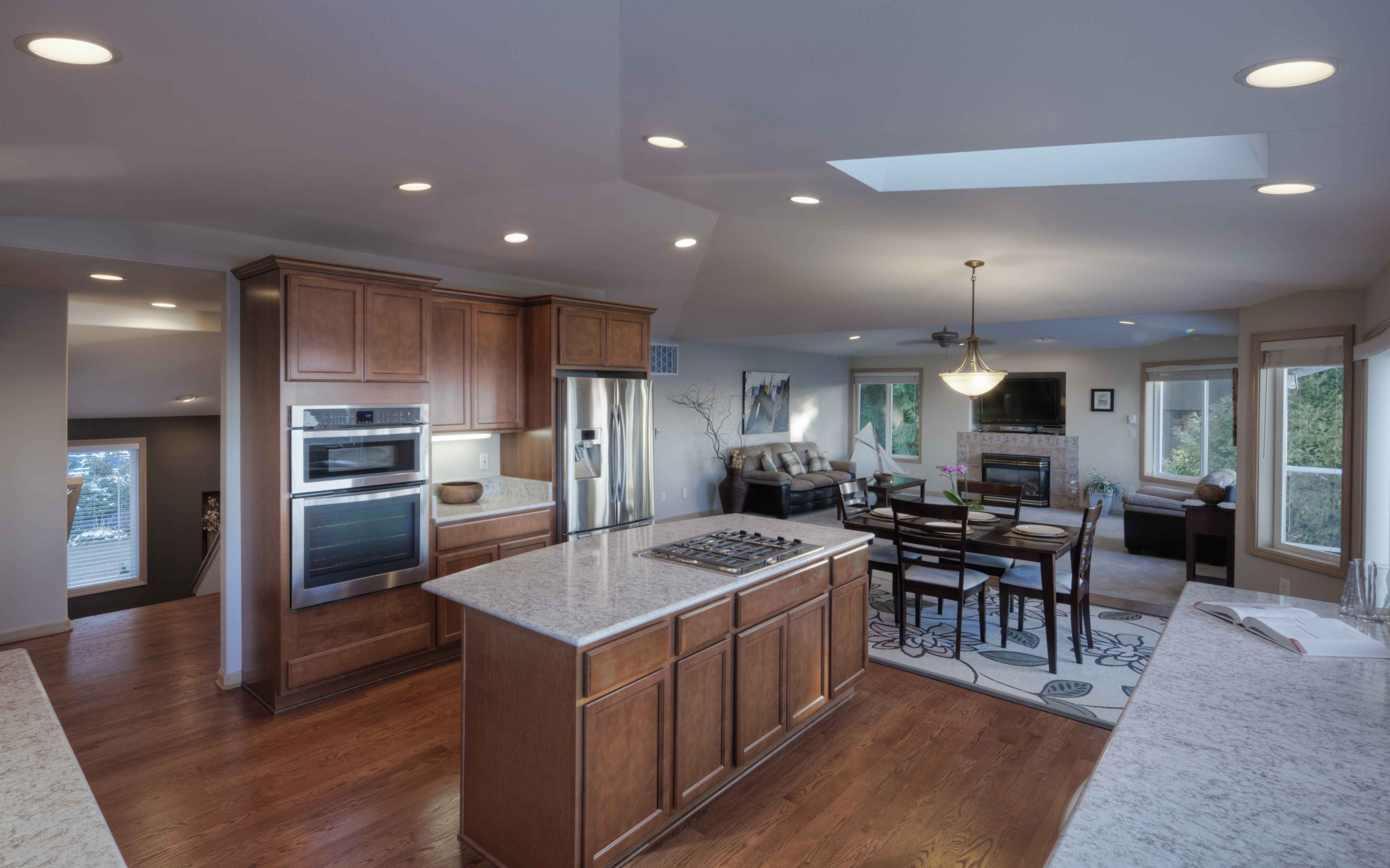 Darker, moodier colors are now in style and may bring style to an open-concept kitchen and dining area when used as part of a design with lots of natural light.
Read more: When remodeling a kitchen what comes first: Things you Should Know
Design for Ocean Breeze Open Room
The circular dining table that is strategically positioned in between the kitchen and the living room to act as a buffer zone allows this house to elegantly merge the two spaces.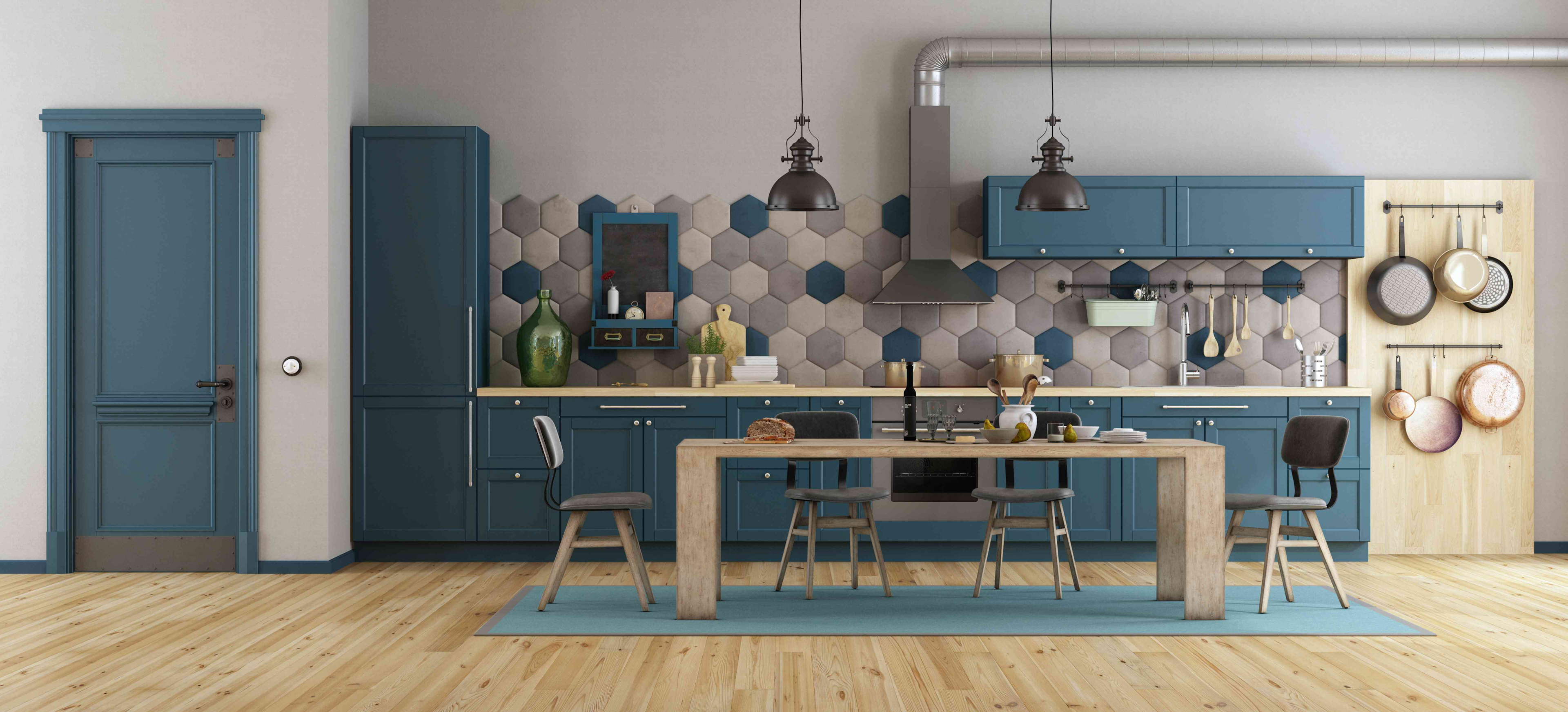 The family may sit together in additional seats lining the kitchen island. A few potted plants give the space vitality and draw attention to the varied shades of white and mild blue that are there.
Hope you found the right idea for your kitchen from this article. But don't forget, we are always here to welcome you and answer any of your questions, feel free to contact Remodeling Pros NW via:
Phone: (206) 617 6607
Email: info@remodelingprosnw.com
Website: https://remodelingprosnw.com/