Tired of hearing bathroom makeovers have to cost $30k+? Let's shatter the myth of expensive average bathroom remodel cost Seattle! I'll show you how to identify overpriced options, trim thousands from high bids and transform your space on a reasonable budget. By the end, you'll know the true budget you require for the features you want – and how to get the most bang for your bucks spent. Together we'll create your personalized oasis without overspending – proving an affordable Seattle bath remodel is absolutely achievable.
How much does it cost to remodel a small bathroom in Seattle?

The cost to remodel a small bathroom in Seattle can vary widely depending on the extent of the updates, materials chosen and contractors involved. Here are some estimated ranges:
Basic Updates (new fixtures, lighting):
Toilet – $200-$800
Vanity and sink – $500-$1500
Faucets – $100-$600
Tub or shower – $1000-$3000
Towel bars – $50-$250
Mirror – $100+
For floors, walls and basic updates you could expect to spend:
$2000 to $5000 for standard bath upgrades like vinyl floors, paint, Ikea cabinetry and shower curtain.
Mid-Range Remodel (some tiling, upgraded fixtures):
$5000 to $10000 for basic tile, cultured marble vanity, updated lighting and shower door.
High-End Remodel (extensive tile, custom cabinets):
$10000 to $25000+ for luxury vinyl tile, glass shower enclosure, tile shower walls and high-end vanity and fixtures.
Labor for a small Seattle bathroom remodel will likely cost at least $2500 to $5000 on top of material costs, but can rise to $15000 or more for complex tile or plumbing work.
Creating an Oasis on a Realistic Budget: The Average Bathroom Remodel Cost Seattle You Need to Know
Do you wish you could upgrade your worn-out bathroom in Seattle to resemble a tranquil oasis retreat without spending $20k or more? It's not just you! Despite wanting to update their bathrooms, many homeowners balk at the hefty cost estimates they are given.
A normal 5×7-foot bathroom in the Seattle region will really cost between $10,000 and $15,000 to completely rebuild, without including high-end luxury materials. With careful planning, study, and haggling, you can update your bathroom for thousands less while still getting everything you want.
I'll go through the typical prices for important supplies, furnishings, and labor in a Seattle bathroom redesign in this post. You'll find ways to cut costs where they don't mean as much to you individually while strategically investing on amenities that suit the needs and objectives of your family.
By the time you're done, you'll have a realistic idea of how much money is needed to make your bathroom the getaway you've always wanted, whether that's a kid-friendly refuge, spa-like paradise, or Zen-inspired haven. Your budget Seattle bath renovation is unquestionably doable with the correct planning and vendor alliances.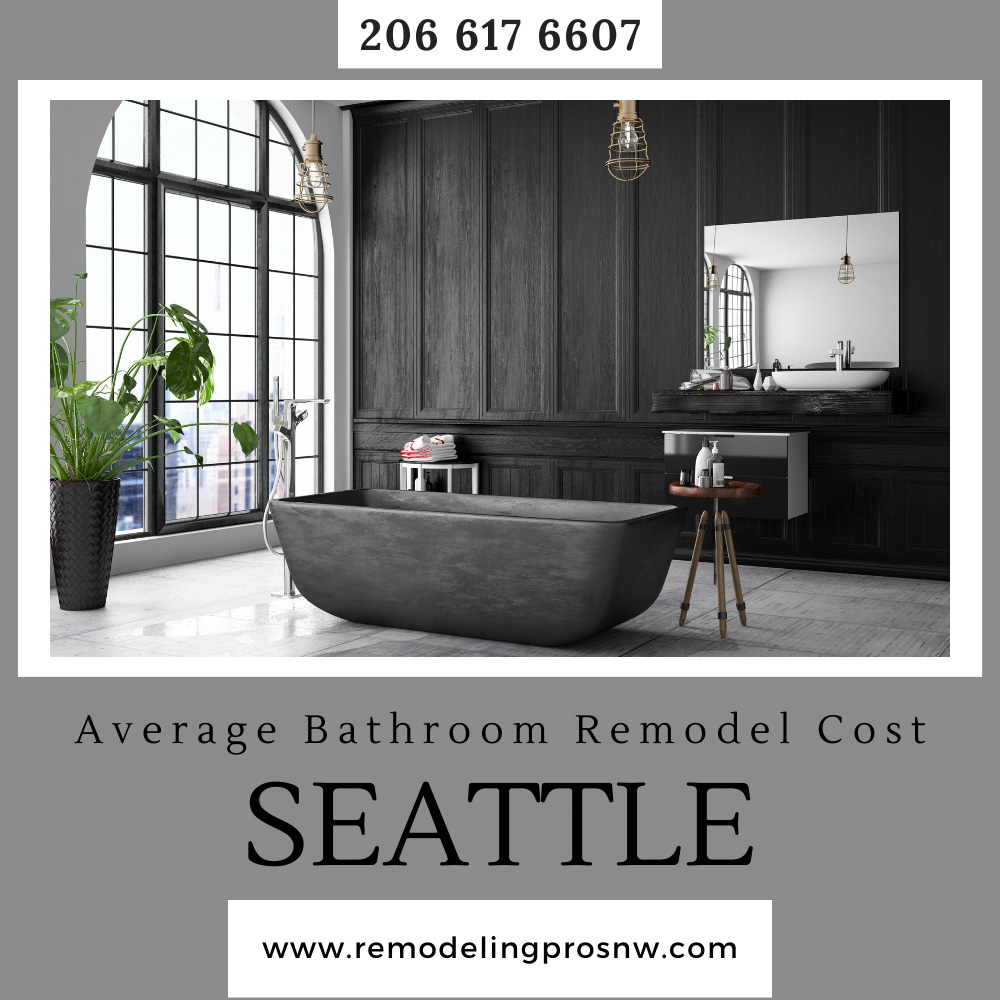 The Main Factors That Impact Bathroom Remodeling Costs in Seattle

Size of the space – Larger bathrooms cost more to remodel.
Extent of updates – More extensive changes like plumbing or electrical work cost more.
Materials selection – Higher end materials like stone tiles and custom cabinetry cost more.
Labor costs – More complex work requires higher paid tradesmen and more hours.
Permits – Some changes require building permits that incur fees.
Unforeseen hurdles – Unexpected issues found during demolition can drive up costs.
Contractor choice – More experienced contractors may charge premium rates.
Remodeling a small bathroom with mid-range materials and fixtures carried out by an average bathroom remodel cost Seattle will likely produce a lower overall cost versus a larger, high-end update done by a premium contractor. Material and labor choices have the greatest impact on your final budget.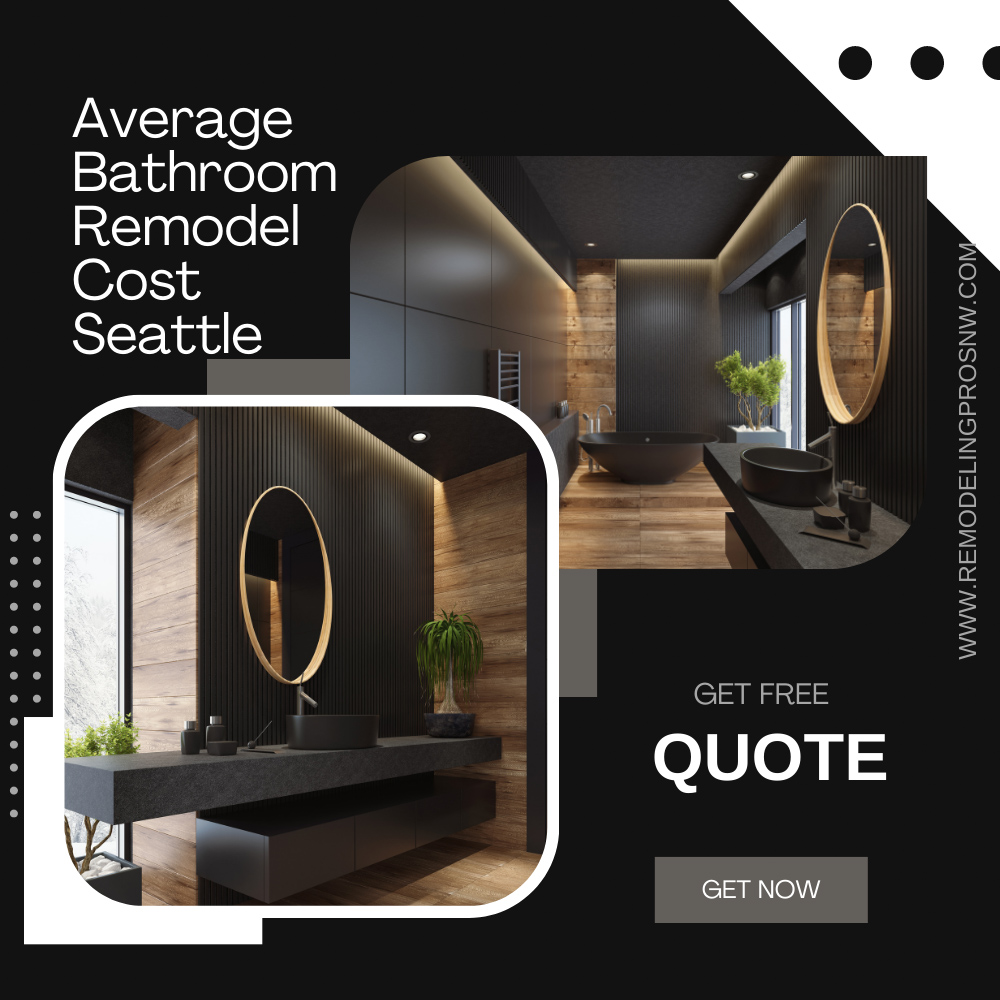 The Price of a New Bathtub

A new bathtub is a transformative upgrade in any Seattle bathroom remodel. Costs vary widely by material and size. Expect to spend at least $1,000 for a basic fiberglass tub install while higher-end options like cast iron, soakers, and Custom shapes easily surpass $5,000. Materials and features have the greatest impact on tub cost. Contractors' costs are comparable across most options. Therefore, choosing timeless style over trends and limiting unnecessary upgrades helps contain costs within your budget.
The Price to Update a Shower

Updating your showers significantly impacts aesthetics and livability in small bathrooms. Costs vary widely based on the materials and fixtures chosen. Expect a basic tub-to-shower conversion for around $1,000 while high-end fixtures, custom tile, and glass enclosures can approach $10,000. Factor in high labor costs due to plumbing work. Choosing mid-range materials, shower bases instead of tiling and limiting fixture upgrades will help create a stylish shower within budget.
The Price of Remodeling a Small Half Bathroom

Transforming a small half bath into a functional oasis can be done within a reasonable budget. Costs vary widely by materials, fixtures, and extent of updates.
Expect to pay around $3,000 for basic upgrades like new paint, floors, and a standard tub/shower. Mid-range materials can easily reach $6,000 while high-end renovations with luxury finishes and customizations likely exceed $10,000. Prioritizing a few essential updates makes the biggest impact on a budget.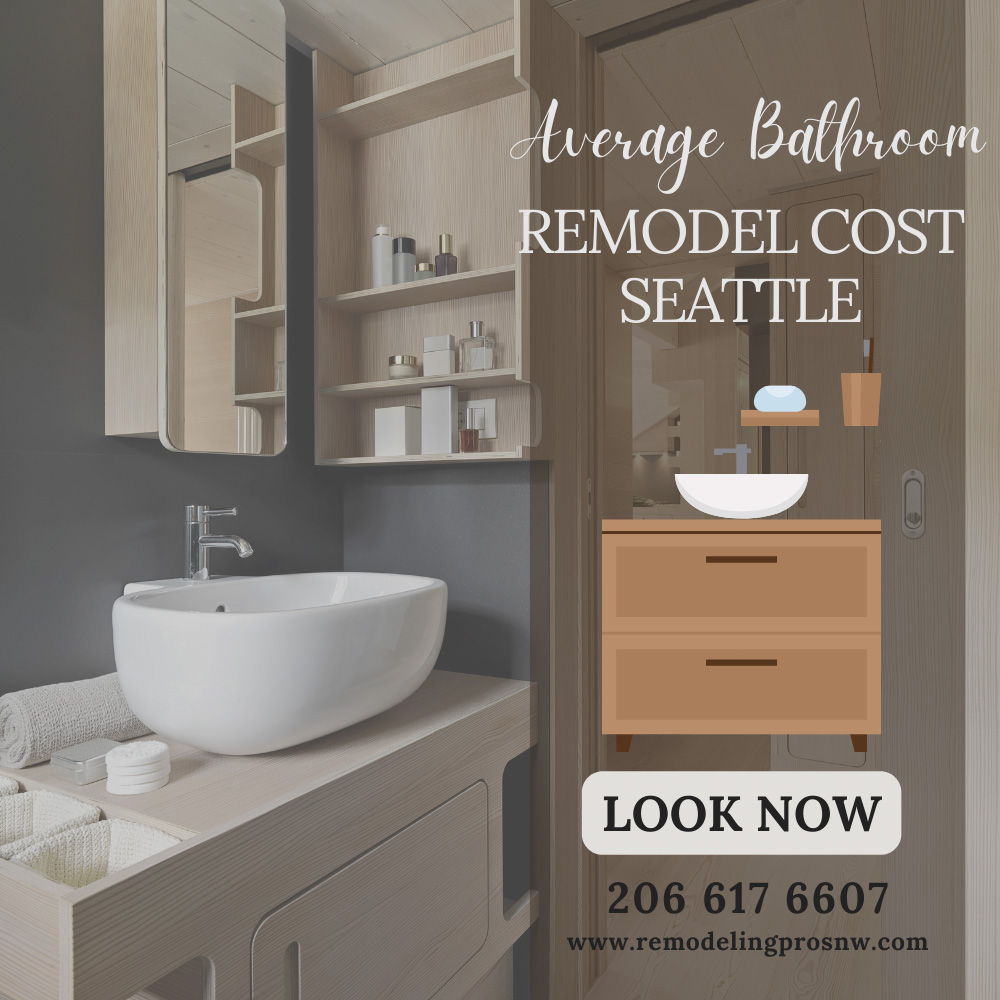 The Price of Remodeling a Large Bathroom

Transforming a larger Seattle bathroom into a spa-like retreat requires careful planning and budgeting. Costs vary widely by size, features, and materials.
Expect budgets from $12,000 for straightforward updates on a standard master bath up to $30,000 or more for spacious layouts with custom tile, luxury fixtures, and full accessibility. Factors impacting price include extensive demolition, larger tub/shower units, sophisticated stone countertops, and intricate tile patterns.
Prioritizing key upgrades while economizing on finishes that impact livability less helps create an oasis within budget. Choosing mid-range materials, limiting fixture extras, and negotiating with contractors allow you to transform an expansive space into your dream bathroom retreat for thousands less.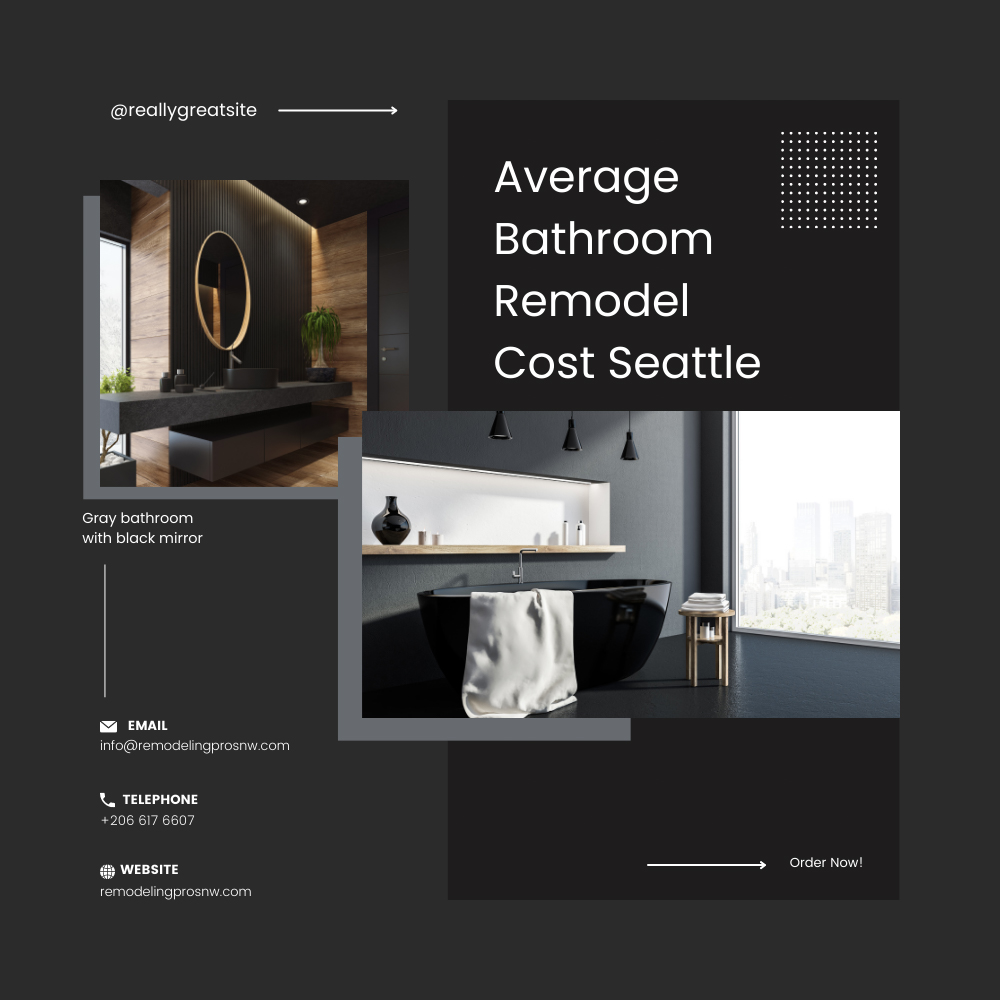 What is the most expensive part of a bathroom remodel?

Labor costs typically account for the majority of expenses in any Seattle bathroom remodel project. After labor, materials for tiles, countertops, and cabinets rank as the next most pricey components. Luxury fixtures like soaker tubs, walk-in showers, and dual vanities further drive up costs. To save money, prioritize core updates that affect your daily use most while economizing on finishes and extras when possible.
What bathroom colors increase home value?

Neutrals like white, grey and cream create a timeless canvas for your fixtures and accessories while satisfying the most buyers. Darker hues, when done right, can also raise a bath's perceived value by creating a moody yet relaxing atmosphere.
With proper planning and research into materials, fixtures and contractors, you can absolutely remodel your Seattle bathroom for less than those inflated average bathroom remodel cost Seattle estimates you often see. Transform your space using high-impact updates within budget while economizing on extras that impact livability less. By focusing your dollars on options aligned with your family's most important needs, you'll soon enjoy a functional, stylish oasis for years to come – all without breaking the bank. Start shopping for affordable options today and begin bringing your dream Seattle bath to life within the budget.